Tactical First Aid and "System Collapse" Medicine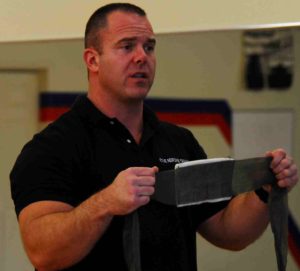 This hands-on class will develop proficiency in basic battlefield medical techniques utilizing the military's latest "Tactical Combat Casualty Care" protocols.
Students will learn to stop traumatic bleeding from gunshot and knife wounds using the latest pressure bandages, tourniquets, and hemostatic agents.  Self care and care under fire will also be addressed.
Students will also learn simple patient assessment techniques, how to treat a sucking chest wound/tension pneumothorax as well as field fracture immobilization and expedient c-spine immobilization.  Options for assuring clear airways (including improvised surgical airways) will be practiced.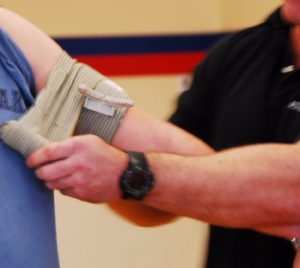 In addition, students will learn how to treat themselves and families in the event of a long-term breakdown in our current medical system.  Wound cleaning and disinfection under field conditions, injection of local anesthesia and wound closure (including minor suturing) will be practiced in our "trauma lab".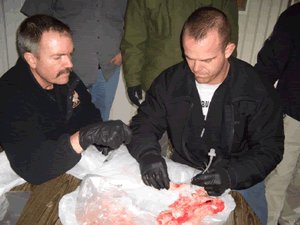 Information about what types of drugs to stockpile for natural disasters or a collapse in the health care system will be discussed, along with methods for legally acquiring those pharmaceuticals.  The instructor will also discuss what items should be included in a comprehensive medical kit and how to improvise those items in an austere environment.
All materials for the class will be provided by the instructor.  Students will also receive a CD containing program notes and dozens of complete medical reference books.
Go HERE to read a student's review of a recent class.
Class will run 9am until 4pm with a 30 minute lunch break.  Class is limited to 20 people. Registration and pre-payment is necessary to guarantee your spot.
Date:            March 23, 2013
Where:
Boyd County Road Dept.
12327 Anthany Drive
Ashland, Ky 41102
Cost: $100
Registration: For more information contact: Jay Boggs j.boggs@att.net or 740-532-0138
To make payment arrangements: Matt Blake sauerchild@yahoo.com
About the instructor:
Greg Ellifritz is veteran police officer.   He served 13 years as the full- time training officer for a suburban police department in central Ohio, responsible for developing and instructing all of his agency's in-service training.  He now works both as a firearms instructor and in the patrol division.
Greg holds instructor or master instructor certifications in more than 75 different weapons systems, defensive tactics programs, and law enforcement specialty areas. He has a Master's degree in Public Policy and Management and has written for several publications including: "American Handgunner", "Personal and Home Defense", 'The Firearms Instructor", "Ohio Police Chief", "Combat Handguns" and "Concealed Carry Magazine".
With a passion for adventure travel, Greg spends an average of six weeks a year exploring third-world countries.  Recognizing that his travels often take him far away from established medical care, he has taken numerous wilderness, tactical and military medical care classes since 2003 and is a certified Tactical First Aid instructor. He has also received instructor-level tactical medical training from medical personnel employed by the DEA, Chicago Police Department, U.S. Air Force, and U.S. Navy. Having provided medical care for both himself and his traveling companions in austere conditions on five continents, he now teaches medical courses for police officers, corporations and individuals through his company, Active Response Training.  Greg can be reached through his website at www.activeresponsetraining.net.