Written by: Greg Ellifritz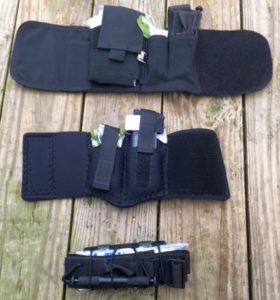 One of the most common questions my students ask during my tactical medicine class is "How can I carry essential trauma medical supplies when I wear normal clothes."
It's a good question. Most of us won't wander around everyday public life with a large backpack filled with trauma supplies hanging off our shoulders.
The good news is, we don't have to. There are several low profile ways to carry medical gear in everyday life. Here are a few of the options I use….
Option 1: Ricci Ankle Medical System

This is a large ankle carry rig with pockets for everything you might need to treat a gunshot wound or traumatic injury. Mine is stocked with:
This option carries the most gear, but it is fairly bulky. I usually carry this one at work where I am wearing boots and wide bottom uniform pants. The ankle rig is exceptionally durable and has held up well.
Option 2: DeSantis ankle magazine holder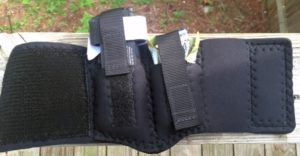 This isn't actually designed for medical gear, but it works well in an improvised capacity. I took the DeSantis two-magazine ankle holster and stuffed it full of med supplies instead of magazines. It contains:
The petrolatum gauze is used to make an improvised chest seal. It would be nice to have a pressure dressing in this one, but there just isn't room. Even without the pressure dressing, the lifesaving essentials are covered. This is a light and handy kit that I find myself wearing whenever I go out in public while wearing jeans. This holster isn't very long and needs to be strapped on a bare leg. It won't fit around most boots.
Option 3: PHLster Flat Pack Tourniquet Carrier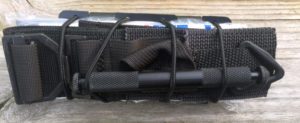 This one is a belt mounted carry solution to ensure that you will always have a tourniquet on your person. It consists of a kydex backing plate with two belt loops and two elastic cords that hold a tourniquet in a horizontal position on the belt. Watch the video below for a better description:
Underneath my tourniquet, I also placed a package of flat pack duct tape, Petrolatum gauze and a couple of 4×4 gauze pads. With that gear, I can improvise a chest seal and/or a pressure bandage. It rides unnoticed under an untucked shirt and goes in my everyday carry sling bag when I travel overseas.
As it allows anyone to carry the bare minimum of medical gear in a compact package, there is no excuse why you shouldn't have one on your belt whenever you train or shoot firearms.
I have larger kits in my car and specialized trauma kits for my range bag and my police car, but these are the ones I carry in everyday life.
Get some med gear. Get some training. The life you save may be your own.
FTC Disclosure: I received no compensation from any of the manufacturing companies mentioned in exchange for this review. I received a pre-release evaluation version of the PHLster carrier, but I paid for all other items out of my own pocket.
* Some of the above links (from Amazon.com) are affiliate links. If you purchase these items, I get a small percentage of the selling price.