Written by: Greg Ellifritz
Why is the Department of Homeland Security purchasing photographic silhouette targets depicting armed pregnant women as threats?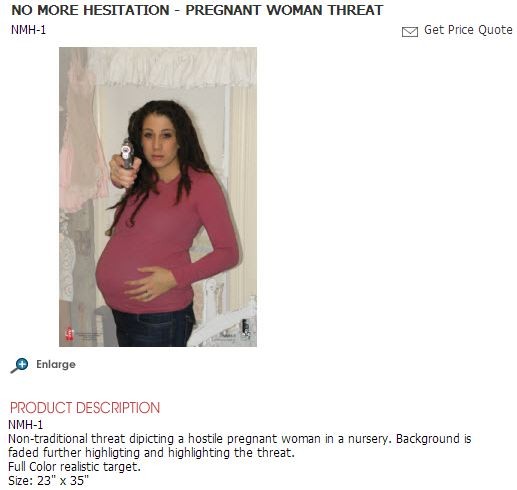 Last week, the internet was abuzz with news articles (like this one) proclaiming that the government was preparing to wage war against its own citizens. Is the uproar justified?
Maybe. Maybe not.
This isn't anything new. I've occasionally used targets like this in my training for more than 15 years.
The goal of using any photographic target is twofold. We want to create some realism in training and we want to teach correct threat evaluation. Military firearms instructors learned during World War II that rifle training on bullseye targets didn't adequately prepare soldiers for battle. By the time of the Vietnam conflict, the military was doing more training on silhouettes and reactive targets. The battlefield rates of fire increased, as did the hit rates.
Statistically, most officers aren't likely to face an armed pregnant woman as an adversary, so that's a strike against realism. But does that mean that every target we shoot should always be a white guy between 25- 30 years old? After all, that's the "profile" of the most likely cop killer.
Most people would think that it's ridiculous to mandate all targets be white males because it's discriminatory. It wouldn't be right. Then how can it be wrong to use photographs of school children and women? Have those demographics been threats in the past? Yes, they have. We want to prepare officers for all possible threats.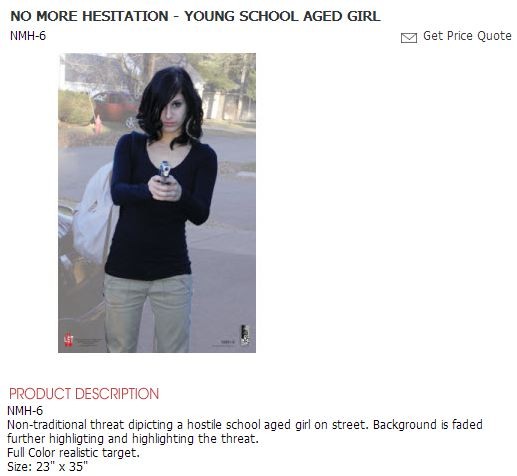 On the threat evaluation side, these kind of targets actually work well. They teach the officer to look for the threat, not for the person. That's a good thing. It seems discriminatory, but in actuality these kind of targets reduce discriminatory shootings by training the officer to react to on an actual threat rather than making the officer evaluate criminal conduct by the physical characteristics of the target.
One side note: in using targets like this, I've seen some complete meltdowns in the shoot houses at TDI. Some guys are absolutely not mentally prepared to shoot a woman. They physically can't pull the trigger in the shoot house when a female target is pointing a gun at them.
That's bad. We don't want to allow that to occur. The only way to fix it is to use targets like these that make officers actually imagine a threat that is a little different from what they normally picture in their heads.
What the inflammatory news articles are leaving out is that most of these targets come with target overlays using alternate "weapons" that turn them from "shoot" targets into "no shoot" targets. No one seems to complain about pictures of women or children being used as "no-shoot" targets. And I'm certain that is the role of some of these targets purchased by the government.
When an officer enters a house in pursuit of an armed criminal, it's reasonable that the officer will encounter innocent people in the house as well. That officer needs to be able to instantly discriminate between a criminal threat and an innocent bystander. And we can't train him to do that based solely on the physical characteristics of the "target".
Setting up target arrays with threats from different weapons and different types of people forces the officer to learn faster threat evaluation techniques. That ultimately leads to fewer "bad" shootings.
I understand that these targets look bad.
I also understand that our Federal government doesn't have the best track record with regards to keeping its citizens' best interests in mind. I too am fearful of the erosion of our constitutional rights and being seen as a "target" by Federal law enforcement officers.
If I saw a "shoothouse" set up with ALL women and kids as targets, I would be appalled. But in over 17 years of police experience and having trained with all of the federal agencies, I've never seen that.
Let's remember the principle of "Occam's Razor". That's the idea that in the absence of other corroborating information, the simplest hypothesis is usually the correct one.
Ask yourself what is more likely, a vast secret inter-agency government conspiracy to murder women and children or some federal firearms instructors trying to teach better threat discrimination?
I'm voting for the latter explanation. You can call me a government shill if you want, but I hope logic will tell you otherwise. When women and children stop killing people, I'll be the first one to dump my female silhouettes. But until then, I'm going to use them to help my officers learn to focus on what they should be evaluating…the presence or absence of a lethal force threat.