Anders Breivik was the guy who killed 77 people (mostly children) in Norway last July.   He is currently on trial for his murderous rampage.  Although the US media coverage of the trial has been virtually non- existent, other nations are reporting new details about the shooting.   Take a look at these two articles:
From "Russia Today"
From England's "The Guardian"
A few of the comments from the article stuck out to me….
"The goal was not to kill 69 people on Utoya. The goal was to kill them all,"
This perfectly describes the attitude of the active shooter. It isn't about revenge or righting some sort of perceived wrong. It's all about gaining notoriety from a large body count.
"He had initially planned on detonating three bombs in the capital Oslo. However, he found it too difficult to obtain explosive materials, and thus decided that shooting was easier."
This is why we haven't had many terrorist bombings in the USA…with ready availability of firearms, it's easier to achieve a high body count by shooting than by blowing things up.
It is important to note that Breivik still used a bomb. He didn't abandon the technique entirely. I would predict that there will be more mixed bombing/shooting incidents in America's future.
Active shooters generally plan their massacres and train for them.  Cho at Virginia Tech actually practiced shooting at targets arranged as students hiding under desks at a public shooting range.  Breivik was no different.  His primary method of training was playing "first person shooter" video games like "Call of Duty".  While I don't subscribe to the idea that such videos cause regular people to become murderous, they do provide easy practice.  They might better be called "Killing Simulators" than video games.  Read what Breivik had to say about training this way:
"It consists of many hundreds of different tasks and some of these tasks can be compared with an attack, for real. That's why it's used by many armies throughout the world. It's very good for acquiring experience related to sights systems."
"…of course it does help if you've practised using a simulator."
In addition to training, the games provided him with a ready "cover story" to explain why he was spending so much time alone in his room preparing his attack.  He had set up a pattern of playing online games for 16 hours a day.  His family just assumed that's what he was doing as he planned the attack.
I'm hoping that more details come out over the course of the trial, but if not, we've still learned some things about the shooter's mindset and training.  Those are valuable insights and may be used to prevent the next attack.  Pay attention!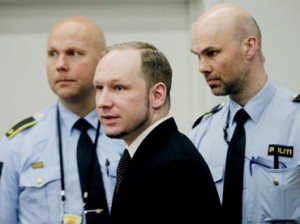 4/20/12 Update:
CNN has an article out today giving some more details.  Check it out HERE
Some additional insights….
1) Playing dead should be your last option in an active killer scenario.  It simply doesn't work very well.  From the article:
"he recounted firing more bullets into teenagers who were injured and so couldn't escape, killing those who tried to "play dead" and driving others into the sea to drown."
2) Police and authority figures will be the first people killed in an active shooter or terrorist attack.  Again, a quote from the CNN piece:
"His first victim was the lone policeman on the island, Breivik said, whom he shot in the back of the head. The second was the manager on the island.
3) More evidence that the active killer researches, studies past events and extensively plans:
"Breivik earlier said he picked up the idea of wearing a police uniform for the gun massacre on Utoya Island from reading al Qaeda's online "magazine" for followers.
He followed al Qaeda closely from 2006 to 2011 and studied the terror network's "media effect, what they have done wrong, what they have done right … what it takes," Breivik said.
He told the court he had gained tips from watching documentaries on the conflicts in Iraq and Afghanistan."
4) One final point is that active shooters often tell others of their plans.  This is the best chance for intervention.  Breivik was no different:
"He said one other person knew of his planned attacks, but did not say who that was"
That one other person could have saved a lot of lives……
The Sun also had some insightful information here.  Many past killers have experienced weapons malfunctions or had to reload their guns.  It is the perfect opportunity to attack.  Breivik actually mentioned this in court:
"Some people became so paralysed they could not run. They stand totally still. This is something they never show on TV. It was very strange. I ran out of ammunition and they are just standing there. Some are praying for their lives.
"I re-load and two people are just standing there paralysed. I shoot them in the head."
Think about how the situation would have turned out if just a few students attacked while he was reloading.  Understand how to recognize when the shooter has an unloaded gun and exploit his moment of weakness!