Written by Greg Ellifritz
I investigated a recent break in and the victim told me "I'm going to get a big dog. This will never happen again."
I didn't have the heart to tell her that the presence of a dog may or may not prevent a burglary. The dog may also fail to deter crimes like robbery or assault. A quick internet search shows several incidents of people being targeted for robbery or assault even while walking their dogs. Check out the articles below for a few examples: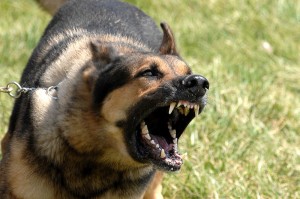 I teach a lot of women's self defense classes. In almost every class, I have a woman make the statement "I'm not worried. I have a big dog."
It's generally accepted that having a dog deters the average criminal and reduces your chance of being victimized. But in looking at the cases above, the possession of a dog clearly doesn't stop all criminal attacks. Want some more evidence? Take a look at this short video putting family pets to the test. The results are not pretty.
There is a surprising lack of research available regarding exactly how valuable dogs are at preventing crime. Almost all the research conducted deals only with the crime of burglary (theft from an unoccupied house). Here is an example:
In this report, the US Department of Justice concludes that:
"On average, burglarized houses are less likely to have dogs than are non-burglarized houses, suggesting that dog ownership is a substantial deterrent."
Having a dog may be a "substantial deterrent" but I can give you some personal examples of burglaries I've investigated where even the presence of big, aggressive dogs didn't keep the burglars out. I can remember at least three household burglaries where burglars made entry despite the owners having large dogs. In one burglary the two burglars removed a garden rake and a piece of lumber from an unlocked garage. They used those objects to drive the dogs into a living room where they simply penned them up with a pet gate before stealing thousands of dollars worth of jewelry from the house.
The other problem is that many people will look at this report or similar statistics and apply the information to ALL crimes. That's a mistake. Having a dog reduces burglary rates, but it may not have any effect at all on robberies, rapes, or murders. We just don't know. There isn't any substantial amount of research answering that question.
While it seems logical that a dog will provide a protective benefit beyond the scope of burglary, it is wise to have a backup plan. The victims in the cases above didn't and they paid dearly. Learn from their mistakes. Think it through. What would you do if you were attacked while walking your dog and you couldn't rely on your dog for help?
If you would like to read more articles like this one, please sign up for my email updates.