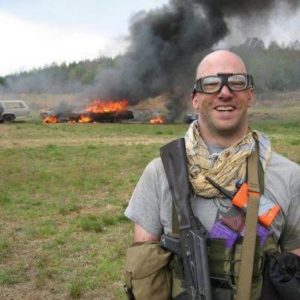 I am honored to be one of the 30 nationally known trainers who is participating in this event.  All of us are donating our time to provide a training class to benefit Paul's children after his untimely death.  Details are below, but it's only $200 for an entire weekend of training with some of the world's best trainers.  Sign up soon.  I don't think this will stay open long.
PAUL-E-PALOOZA
2012
A Memorial Training Conference
To Benefit the Children
of
Our Great Friend
Paul E. Gomez
Saturday and Sunday, August 18-19, 2012
8:00am to 5:15 pm daily
Raven Concealment Systems Range
Garrettsville, OH
Please direct all inquiries to paul.e.palooza@gmail.com
(with the exception of camping…see below)
Faculty of Trainers
Honoring Paul's memory and status in the community, an unprecedented cast of instructors will be donating training time to the cause, including:
Craig Douglas (aka "Southnarc")–Rob Pincus–Cecil Burch–Tom Givens
Andy Stanford–Dr. Keith Brown–Dr. Sherman House–Greg Ellifritz–Aaron Little
Paul Sharp–Larry Lindemann–Steve Fisher
Michael DeBethencourt–Bobby Mac–Jeremy Decker–Jeffrey Bloovman
Chris Fry–Spencer Keepers–Taylor Mock–Tom Fineis–Michael Goerlich
Claude Werner–Shane Gosa–John Hearne
William Aprill–Caleb Causey–Morgan Atwood–Chuck Haggard
Shay VanVlymen–Jay Hinton
Schedule
In order to maximize learning potential with this unique gathering of talent, 2-hour blocks of instruction will be conducted from 8:00am to 5:15pm on 4 simultaneous tracks:
Live-fire
Combatives
Classroom A
Classroom B
A detailed program schedule will be emailed to all registered attendees prior to the dates of the conference. Attendance at all courses is "first-come-first served", and instructors reserve the right to limit class size in the interest of safety and comfort.
Registration
Registration fee for the conference is $200, with 100% of the proceeds going to the Paul Everett Gomez Memorial Fund, dedicated to the support and education of Paul's minor children. Registration is limited based on the size of the facility, and demand is high, so please do not delay in signing up.
To register, send a check for $200US payable to Paul Everett Gomez Memorial Fund to:
Paul-E-Palooza
c/o WTA
5721 Magazine St., Unit 180
New Orleans, LA 70115
Please include your full name, mailing address, and email address with your payment. Upon receipt of your payment, you will receive a confirmatory email.
Many have inquired about making donations to the Memorial Fund even though they are unable to attend the 'Palooza. We appreciate this generosity immensely and encourage you to follow the above directions to donate any amount large or small.
Range Location
Paul-E-Palooza will be held in Garrettsville, OH, at a private range under the administration of Raven Concealment Systems. Exact address and directions will be emailed to registered participants in advance of the conference date.
Travel Information
Garrettsville, OH, is approximately 50 miles southeast of Cleveland. Multiple connecting flights are available daily into Cleveland Hopkins International Airport (CLE) and Akron Canton Airport (CAK), each roughly 50 miles from the training site.
Please note; We strongly encourage attendees to carpool, ride-share, and be creative! There is the possibility of some form of shuttle service between CLE and the training site, and any developments in that area will be distributed to registered attendees as early as possible.
Lodging:
There are several hotels within driving distance of the training site, including:
Holiday Inn Express Lordstown-Newton Falls/Warren
4185 State Route 5
Newton Falls, OH 44444
(330) 872-6000
Budget Lodge
4100 Ohio 5
Newton Falls, OH 44444
(330) 872-3833
budgetlodgeohio.com
Econo Lodge
4248 Ohio 5
Newton Falls, OH 44444
(330) 872-0988
econolodge.com
Comfort Inn
136 North Park Avenue
Warren, OH 44481
(330) 393-1200
Fairfield Inn Warren Niles
1860 Niles Cortland Road Southeast
Warren, OH 44484
(330) 544-5774
marriott.com
Holiday Inn Express Hotel Youngstown N (Warren/Niles)
135 Highland Terrace Boulevard
Warren, OH 44484
(330) 544-8807
hiexpress.com
In addition, campsites are available on the Conference site, for both RV (with utility hookups) and tents (with shower and restroom facilities) for $25 per person/night. Contact trek@ravenconcealment.com directly for these reservations.
And for the truly discerning among you, desirous of the true full-Gomez experience, we will provide the number to the sleaziest local skank-pit of a dive-motel-from-hell upon request…just don't say you weren't warned.
Amenities
The Conference will be conducted at an outdoor facility in August. Please prepare accordingly. Plenty of water will be provided for hydration safety, lunch will be available for purchase onsite both days, and attendees are welcome to bring any food and drink they desire. The facility features electric power, potable water, and restrooms, though it is best described as "Spartan chic".
Auction, Bonfire, and Celebration of Paul's Life
On Saturday evening following the last class block, an auction of various highly desirable goodies for the discerning tacticophile will be conducted before a raging bonfire; 100% of proceeds to enrich the Memorial Fund. Following the auction, many adult beverages will be slaughtered and many tales of Paul told….BYOB and LYDG, of course.
Incidentals
Check for yourself, of course, but it is believed that Ohio honors concealed carry permits from WA, ID, WY, UT, AZ, NM, AK, ND, NE, KS, OK, MO, AR, LA, MI, KY, TN, WV, VA, NC, SC, FL, AND DE.