Written by: Greg Ellifritz
The cool kids don't like shotguns anymore.
When I was growing up, a pump shotgun was universally recommended as the best home protection gun available. Not much has changed in shotgun technology or ammunition for 100 years, but the shotgun has fallen out of favor.
Now, with low prices and an endless supply of accessories, most folks favor the AR-15 for a defensive long gun.
Does that mean the shotgun now longer has a defensive role? Not quite. There are things that the shotgun can do that are impossible for a pistol or carbine.
I was reminded of this fact when recently reading the book Holloway's Raiders. It is a tale of the Dallas police "shotgun squads," cops armed with shotguns staking out convenience stores to shoot armed robbers from 1959 until the early 1980's. The book details 36 different shotgun involved police gunfights. When you read the book, you will have no doubt about the shotgun's value as a defensive weapon. Let's look at a couple factors…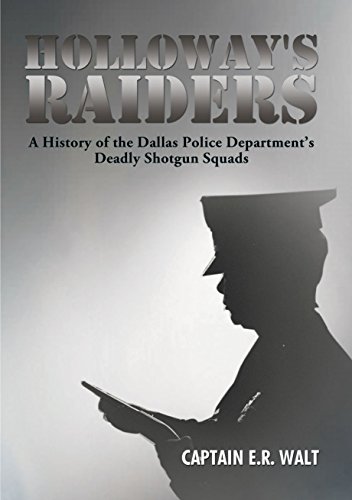 "Stopping Power"- In the 36 shotgun gunfights, 31 criminals were hit. Eighteen of those criminals died from their wounds. Only five of the 31 people shot required more than one round to neutralize. That means 25 out of 31 stopped after being hit with a single shotgun round.
An 81% "one shot stop" rate is quite enviable. In my 2011 study of handgun stopping power, I found that in nearly 1800 shootings, service caliber handgun loads stopped people with one shot between 34% and 49% of the time, depending on caliber. In 126 rifle-caliber shootings, the criminal stopped after one shot in only 58% of incidents. Twelve gauge 00 buckshot loads are likely the most potent shot for shot "manstoppers" we currently have available.
Lt. H.C. Holloway commanded the Dallas "shotgun squads" and investigated every shooting in which his officers were involved. According to the book, Lt. Holloway:
"…insisted that his officers use a shotgun on stakeouts and sometimes punished them for using 'some damned pea-shooter' instead, because his experience as a homicide detective and in his own armed encounters had shown him that a person hit solidly with a load of buckshot was usually dead or incapacitated immediately and that a handgun, any handgun, was not nearly as effective."
During a 40+ year police career, Lt. Holloway undoubtedly saw the results of hundreds of shootings. How many shootings have you seen or studied? Lt. Holloway believed the shotgun was the most potent weapon a defender could use in a gunfight. His opinion might be worth listening to.
Hit rates- Hit rates with the shotgun were also extremely good. Holloway's Raiders fired 73 rounds with their shotguns and hit their targets 43 times. That's a 60% hit rate. Modern police hit rates range from 10% to 20% for most police departments. The rapidly spreading buckshot rounds made it easier to hit criminals who were on the run or moving quickly while shooting. Another plus for the shotgun.
Many folks today try to limit their defensive shotgun's pattern spread by using tighter choke tubes or shotgun shells with wads that reduce pellet spread (like Federal's Flite Control wad). A tighter pattern allows the shotgun to be used at longer ranges and reduces the chance of a stray pellet hitting an innocent bystander.
The cops on the "shotgun squads" used cylinder bore Remington 870s or Winchester Model 12s. They did not have the advantage of modern "Flite Control" shotgun wads. They used run-of-the-mill 00 buck or #1 buck loads. One might think that the rapid pattern spread of this shotgun and load combination would have led to many innocent people being hit by stray pellets. Not so. Despite all the shotgun pellets flying in these hectic gunfights, not a single innocent bystander was hit over a period of more than 20 years! Do you really think shotgun pattern spread is a bad thing? It isn't, so long as you are smart about how you use your shotgun.
The 12 gauge shotgun worked admirably for "Holloway's Raiders" and is still a viable option for home defense. Its stopping power is unmatched, and drops people with fewer shots than either a handgun or a carbine. The pattern spread increases the chances of a hit against a moving criminal, and most criminals who attack you WILL be moving. Those two factors make it a top choice for defensive encounters.
Many folks disdain the shotgun for defensive work because pattern spread limits its use to a maximum effective range of between 25 and 35 yards. How many of you readers have a house where you can get a 35 yard shot inside? Probably not many of you. The shotgun's relatively limited range isn't a factor in most home defense shootings.
I like the AR-15 rifle/carbine better than most. It's a great weapon, but it isn't my choice for home defense. Even though I have eight different AR-15 pattern carbines (and a whole bunch of AKs and other rifles), my home defense guns are Benelli and Remington shotguns. They make it easy to hit bad guys and drop them quickly when hit. Isn't that what most people are looking for in a defensive weapon?
Don't discount the venerable shotgun as a home defense weapon. Officer Felix Woodrow, one of the original Holloway's Raiders, said it best:
"Yeah. Holloway was right. Courtroom justice for a hi-jacker is fine as far as it goes…but a load of buckshot? Now that's final."