Written by: Greg Ellifritz
My friend Claude Werner recently wrote an article where he postulated most shooters don't do any real structured practice with their firearms.  They plink or play, but they generally don't perform drills designed with realistic standards in order to improve performance.  In the article, Claude talked about sharing details and photos of his practice routines to give novice shooters an idea about how they might better spend their practice time.
I think that is a wonderful idea.  I plan on sharing the drills I shoot in my weekly practice sessions.  Hopefully, you will get a little value out of my posts or come up with some new drills to make your own practice sessions more effective.
It was a short range trip today.  I didn't have much time and I also have firearms training at my police department later in the week.  With those two facts in mind, I burned through this practice session in about 20 minutes.
I started with the "standard" drill with which I am starting off all of this year's practice sessions.  I shot the Guerrilla Approach Consistency target two times with my Glock 17.  I finally made the par time (25 seconds).
The first run was 22.71 with one miss for a total time of 23.71
The second run was 22.29 clean.
It only took me three weeks, but I finally beat the par time on my first two cold runs today.  I'm going to keep shooting this one as every practice session's cold shooting opener and see how fast I can get it by the end of the year.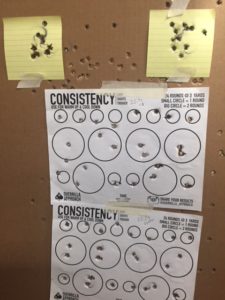 Looking at my most recent practice sessions, I realized my one hand shooting skills are lagging a bit.  My plan today was to do some dedicated one-hand shooting practice.  The drill I chose to fire was the Switch Hitting Shooting Drill.
You can read the drill description at the link above.  There are several different stages, but all involve rapidly transitioning between right and left hands under a tight time constraint.  I started with single (alternating hands) shots at the post-it notes you see in the photo above at three yards.  The goal was to get as many hits as possible in 10 seconds.  I ran this one for several magazines.
I then transitioned to the "fast version" of the drill.  The targets were pieces of 8.5 x 11″ copier paper.  At 15 feet, fire two, switch hands, fire two.  Repeat this sequence as many times as possible in the 10 second time limit.  I fired a couple more magazines on this drill.
I closed out the session by shooting the "fast" version of the drill again, only this time with my police backup gun (S&W Model 12 in .38 special).
I was happy with 100% hits from both weapons.
Total rounds fired today:
– 119 rounds through the Glock 17
– 16 rounds through the S&W Model 12