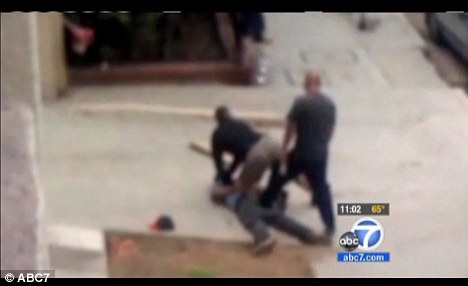 You are walking down a city street on Saturday morning when you hear the sounds of a woman screaming. You see a man throw her to the ground and begin to remove her pants. What do you do?
Several people were confronted by this exact scenario in Los Angeles, California.  Read the full account of what happened below:
Fortunately for the woman involved, two men nearby punched the attacker to the ground and held him for police.  Others comforted the victim.  This is truly an example where things turn out well.  It's refreshing to see even if  the incident wasn't well covered in our own country's media outlets.  It stands in stunning contrast to the stories all too commonly reported when bystanders did nothing in response to a fellow human being attacked.
I spend a lot of time here telling folks not to unnecessarily involve themselves in other peoples' business. It's usually a road to disaster because one never truly knows what the back story is before he or she jumps in.
In this case it's a little different. There's virtually zero chance that this is an arrest by a plain clothes cop or a robbery victim fighting back. It also isn't likely to be a domestic gone bad.
I would hope that anyone who is reading this would intervene, performing whatever actions they are capable of.
If it was your wife, mother, daughter, or girlfriend that was being attacked, you would hope that some stranger had the courage to intervene even if he or she has no duty to risk their life for someone else.
It's time to be that person.
If you would like to see additional articles like this one, please sign up for my email updates.