Written by: Greg Ellifritz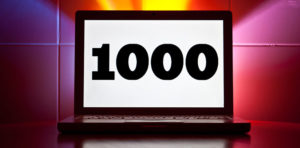 This is the 1000th article I've posted on my website.
When I started this blog back in 2012, I had no idea that I would be writing so much.  A thousand articles in four and a half years?  That's really kind of crazy if you think about it!  I  looked at my overall web analytics in honor of this article.  The site is at a little more than two million total unique readers and 14 million total page views.  I'm currently seeing about 100,000 unique users and 400,000 page views every single month.  The idea that two million people from all around the world have read my articles is truly astounding to me.
I thank all of you readers for supporting the blog, reading my articles, and sharing them with your friends on social media.  My training classes are almost always full and most of my students found me from the blog.  I owe you all a beer!
I have no plans of slowing down.  Look for three to four new articles full of practical information every week.  I'll keep writing if you'll keep reading.
You may or may not have noticed, but there is no paid advertising on this site.  There are no annoying pop up ads or requests for your your personal information.  The site is solely supported by your donations and some affiliate sales commissions from Amazon.com.  If you truly value the information I share with you, please consider sending me a donation or doing your Amazon shopping through one of the links on my page.  Your support allows me to write the articles you enjoy rather than earning extra cash by directing traffic around road construction sites.  Thank you!
I'm looking forward to my next 1000 articles and am glad you all are along for the ride!