Written by: Greg Ellifritz
This series consists of the details of recent shooting practice sessions I have completed.  It is my hope that by sharing some of my practice routines, more shooters will be inspired to add structured drills with measurable progress standards into their own practice sessions.
-Greg
My stated practice plan this year was to begin each session with the Guerilla Approach Consistency Drill.  I ran the drill three times with my Glock 17 pistol.  I managed to do pretty well despite not having shot for two weeks previously.
Round 1-  with two misses = 24.12
Round 2-  with two misses = 22.43
Round 3- with one miss = 22.87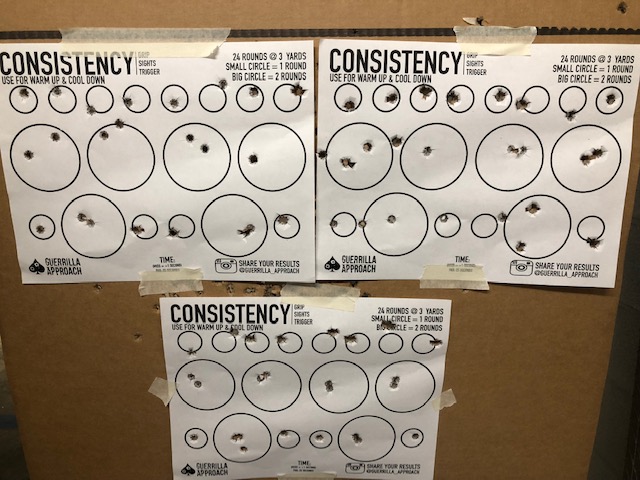 I haven't practiced rapid-fire long string groups for awhile.  I also always need more practice on my reload skills.  After I completed the three runs of the Consistency Drill, I moved on to the BAER standards drill.
You'll need the BAER Standards target.  It's a free download here.  The drill is very simple.
-Draw
-Fire five shots at the left rectangle
-Fire five shots at the right rectangle
-Reload
-Fire three shots into the center circle of the target.
Par time is nine seconds.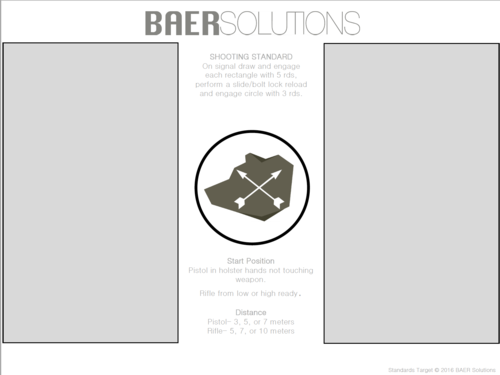 This one can be shot at any distance, but I chose the recommended five yard distance.
I ran the drill three times with my Glock 17.  Results were as follows:
Round One- one miss in 12.51 seconds
Round Two- one miss in 10.49 seconds
Round Three- no misses in 9.55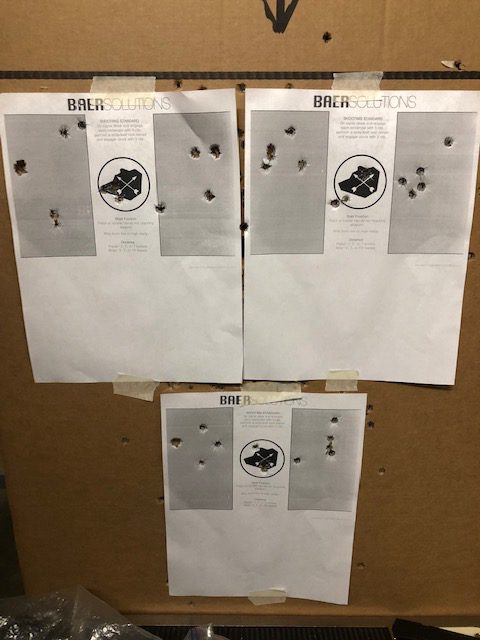 I then ran the same drill at three yards with my .380 Glock 42.  With the lower capacity of the weapon, I chose to shoot four rounds on each rectangle (I have some eight-round G42 magazines) and then three rounds in the center.  It was quite a bit harder with the little .380.  I made two runs with the Glock 42:
Round One- three misses in 11.73 seconds
Round Two- no misses in 12.01 seconds
I really liked the drill.  I think it has a lot of street relevancy.  It tests the draw, a large numbers of shots, multiple targets, a reload, and some precision shooting.  I'll be doing it regularly in the future.
After I finished the Baer Drill, I did some basic two-shot strings from the ready position with both my G17 and G42.
Total rounds fired:
9mm Glock 17- 141 rounds
.380 Acp Glock 42- 36 rounds