Written by: Greg Ellifritz
My friend Claude Werner recently wrote an article where he postulated most shooters don't do any real structured practice with their firearms.  They plink or play, but they generally don't perform drills designed with realistic standards in order to improve performance.  In the article, Claude talked about sharing details and photos of his practice routines to give novice shooters an idea about how they might better spend their practice time.
I think that is a wonderful idea.  I plan on sharing the drills I shoot in my weekly practice sessions.  Hopefully, you will get a little value out of my posts and come up with some new drills to make your own practice sessions more effective.
Instead of shooting my normal pistols, I chose to shoot this session with my favorite well-used Smith and Wesson Model 10 .38 special with a four-inch heavy barrel.  Why?  The day after this session, I took a short trip to Mexico.  I didn't anticipate any problems down there, but I always like to be prepared.
Every security guard in the country carries a four inch .38 revolver.  If things got really bad, that would be the easiest way I could source a quick pistol.  Depending on the situation, I could either buy the gun with a large amount of cash or just take it (sorry, dude.  That's what you get for carrying in a cheap nylon holster with no retention).  I wanted to be up to speed on the most likely weapon I would be able to acquire.
As I plan to do every session this year, I started out shooting the Consistency Target.  It was quite a bit tougher with the revolver than it was with my Glock 17.  It took 60.59 seconds to fire the 29 rounds.  I had one miss.  The four reloads (even with speedloaders) ate up a bunch of time.  Managing the double action trigger ate up a bunch more.
Take a close look at the target.  I'm amazed that some of the 158 grain lead round nose PPU practice rounds were actually keyholing at 20 feet out of a four inch barrel.  It's cheap practice ammo, but I'm not impressed with its performance.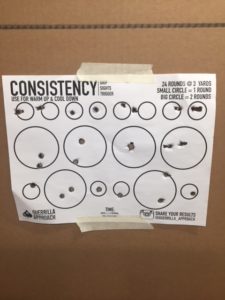 After that, I put up a silhouette target at 20 feet.  Most Mexican security guards don't carry spare ammo.  If I got a guard's gun, I would likely only have the six rounds loaded in it.  I would have to make every shot count.  Hence, I started out by working smooth head shots from the ready position.  Here's what I did:
Single head shots from ready- 12 rounds
Two head shots from ready- 12 rounds
Three head shots from ready- 12 rounds
Two body shots, one head shot from ready- 12 rounds
Six fast body shots- 12 rounds
After dialing in the head shots, I wanted to get some one-hand practice in.  Realistically, if I'm going up against a cartel sicario, he's most likely to be armed with an AK-47.  There's a good chance I'm going to get hit in that fight.  I may have to finish the fight one handed.  I fired the rest of my rounds with one hand at the body of the silhouette at 20 feet.
Right handed only from the ready position
– single body shots- 6 rounds
– two body shots- 6 rounds
– 3 body shots- 6 rounds
Left handed only from the ready position
– single body shots- 6 rounds
– two body shots- 6 rounds
– 3 body shots- 6 rounds
I practiced each reload with a speedloader and tried to complete the reload as quickly as possible.  I realize I'm not likely to find speed loaders in Mexico, but I rarely practice with speedloaders.  I had a bunch of reloads on this practice session, so I figured I might as well get some good practice in.
I had three rounds left, so I moved the target to 30 feet and shot at the O in the upper left corner in single action mode.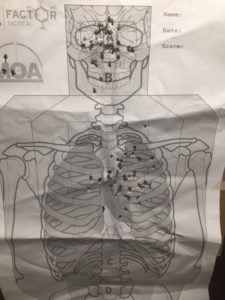 Total rounds fired- 128
I got back from Mexico last night.  I'm happy to report the only danger I faced was a little bit of sunburn.