Written by: Greg Ellifritz
My friend Claude Werner recently wrote an article where he postulated most shooters don't do any real structured practice with their firearms.  They plink or play, but they generally don't perform drills designed with realistic standards in order to improve performance.  In the article, Claude talked about sharing details and photos of his practice routines to give novice shooters an idea about how they might better spend their practice time.
I think that is a wonderful idea.  I plan on sharing the drills I shoot in my weekly practice sessions.  Hopefully, you will get a little value out of my posts and come up with some new drills to make your own practice sessions more effective.
These two practice sessions were a little unique.  Instead of shooting at my local indoor range, I did these practice sessions at the Tactical Defense Institute where I was teaching a weekend impact weapon class.  I squeezed in a bunch of shooting on two days before and after my class.
I started out shooting my rifle doing VTAC's infamous 1-5 drill.  Watch the video below for details.
I shot the drill with my police duty rifle (A lightweight BCM with Leupold 1.25-4X variable powered optic).  I did the drill at 30 feet instead of the prescribed 15. My times were consistently in the 5.0-5.5 second range with only a couple misses.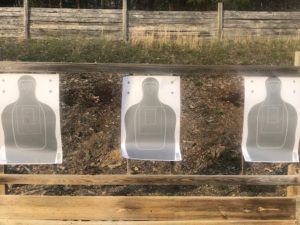 I then ran the Guerilla Approach Carbine Consistency drill for the first time.  That was no joke!  You'd better understand your close range holdovers if you want to be successful.  I ran the drill three times.
First Run- 10.81 seconds, 3 misses for a final score of 13.81
Second Run- 10.39 seconds, 2 misses for a final score of 12.39
Third run 9.77 seconds, 3 misses, for a final score of 12.77
The par time on this drill is 12 seconds.  While I didn't make it, I was far closer than I got the first time I did their handgun consistency drill.
I then did some work shooting fast multiple shot drills with both my duty carbine and my AR-15 "pistol" at 25 and 50 meters.
I put the rifles away and broke out my newly licensed short barrel Benelli M-1 Super 90 shotgun.  I did some reliability testing and patterning drills with it.
When I finished with the shotgun, I completed my training session by doing a whole bunch of concealed draws from the holster with my primary carry gun (Glock 19).  I did single, double, and triple shot strings from the holster two handed, right handed only and left handed only.
I then worked some multiple target drills on the steel targets at 30 feet and ended up by doing a couple magazines of single shot draws from the holster at 25 meters.
That ended practice session #12.
The next day I started off shooting my .22 magnum Smith and Wesson model 351C.  I occasionally carry that gun in low threat environments and wanted to see how it would do shooting faster than I am normally able to shoot on the indoor range.  I did five cylinder dumps at increasing distances on the timer.  I was happy with the gun's performance.  I'll write an article in the next couple weeks on the topic of carrying .22s for defensive purposes.
After I shot the 351C, my friend loaned me his Hudson H9.  I put 60 rounds through it.  Details on that experience are HERE.
I then shot my Glock 19 some more.  I wasn't as happy as I wanted to be shooting multiple targets the day before.  I put four more magazines through it shooting one shot on each of three steel plates at 30 feet.  From the ready position, I had a couple of runs between 1.2 and 1.3 seconds.  Not great performance, but not horrible either.
I finished up the day shooting my rifle again.  Since I worked short range targets the day before, I wanted to do some long range work.  I worked single shots from the ready on the timer at an eight-inch steel plate at 100 and 200 yards.
If you want the single most valuable rifle practice drill, I'd argue that firing single shots fast from the ready at a distance of over 100 yards is it.  When done correctly, it is both exhausting and humbling.  I always improve my shooting after a few magazines doing that.
Next week will be back at the indoor range.
Total Rounds Fired:
306 rounds BCM AR-15
30 rounds Rock River AR-15 pistol
225 rounds  Glock 19 9mm
36 rounds Benelli M-1 12 gauge
50 rounds  .22 magnum S&W 351C
60 rounds 9mm Hudson H-9