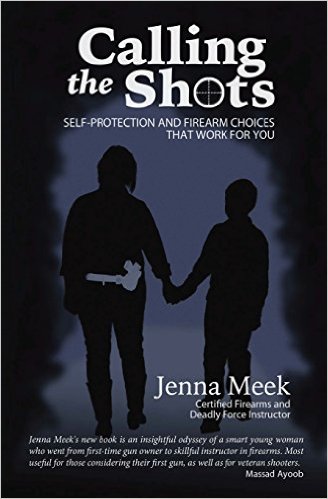 I recently read Jenna Meek's new book Calling the Shots-Self Protection and Firearm Choices That Work For You and really enjoyed it.
The book serves an important role in your shooting library and will help you explain the basics of firearms use and carry issues to the folks in your life who aren't "gun people."
The author's book description is as follows:
"Confused about self–protection and guns? The goal of this book is to help you (especially if you are a woman) navigate the rhetoric surrounding guns and self-defense. Improving your safety doesn't have to be scary. It doesn't mean that you need to be paranoid or become a tactical operator. Living life in fear is overwhelming and exhausting. Staying safe doesn't have to be so intense!
There are better ways to accomplish the goal of personal and home protection. If you are ready to take responsibility for your own safety but don't know where to start, then this book is for you! This is a book for real women who struggle with real issues of safety. Within these pages you will find one woman's story of trial and error on her own journey towards self-protection. This is valuable information for anyone starting on the journey towards autonomy, agency and personal safety."
Although the author tells her story as a woman getting involved in the gun world and provides some female-specific gun advice, the book isn't just for women. Amateur male shooters will greatly benefit from reading the material as well.
The book is very easy to read and has chapters about: choosing your first gun, different types of ammunition, securing guns around children, carrying handguns (both on and off body), and situational awareness. All the information in these chapters is factually accurate and designed to easily explain complex topics to amateurs with no fundamental firearms background.
In addition to the material listed above, Calling the Shots also contains some material not commonly covered in the majority of firearms and self defense references. The author covers such unique topics as boundary setting, dealing with negative opinions from friends and family members, and some training issues specific to the female sex. It was those chapters that I found to be exceptionally useful and virtually ignored by most other books in the genre.
The primary audience for the book is the pure amateur, one who has very limited exposure to firearms or shooting. It is probably the best resource on the market for quickly educating non-shooters on the basics of choosing, carrying, and shooting a handgun. This is the book to buy if you are a man who is trying to get female friends or family members interested in shooting and armed self defense. It provides just enough information to adequately describe the basics, without being long or ponderous. Even if a person isn't really into guns, he or she will likely remain engaged with this short and fast-paced book.
If you are a person who is brand new to the firearms community, you need this book to get up to speed quickly. It provides lots of quality information without getting into too many of the inconsequential details found in other shooting books.
You should also buy if you are a husband, boyfriend, son, or brother to a female who may be somewhat interested in owning a gun, but lacks basic knowledge. You can pass the book off to your loved one after reading it. Both of you will come away better informed.
Check the book out. I think you'll enjoy it. Calling the Shots is available at your local bookstore and at Amazon.com.
FTC Disclosure: The author provided me with a free electronic copy of her book. She is not paying me for this review, nor do I have any financial interests in the author's work.
Some of the above links (from Amazon.com) are affiliate links. As an Amazon Associate I earn a small percentage of the sale price from qualifying purchases.
You can support my work at Patreon.