Written by Greg Ellifritz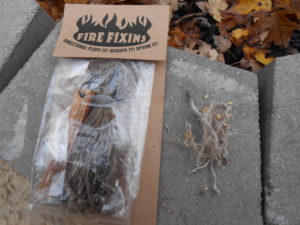 I grew up as a kid spending as much time as I could in the woods.  Besides spending every waking moment hunting, camping, and hiking, I also joined a Boy Scout troop and rose to the rank of Eagle Scout.  After I graduated college, I even worked for a short time teaching wilderness survival to inner city youth.
I don't ever remember NOT being able to make a fire.  I can't remember exactly how or when I learned to do it as a kid, but I was very young.  I sometimes forget that other people didn't have the same kind of upbringing that I enjoyed.  Not everyone knows how to make a fire.
With the current world economic difficulties and the increasing popularity of television shows such as "Doomsday Preppers" and "The Walking Dead", people have become more interested in developing basic survival skills.  I am regularly contacted by adults looking for someone to teach them basic survival skills like shelter making, lighting fires, and identifying edible wild plants.
Making a fire isn't difficult if you have unlimited dry fuel, a cigarette lighter, or some gasoline.  It becomes a much more challenging task if you are wet and cold and stuck in the woods without a piece of dry wood in sight.
In situations like these, tinder and kindling selection is vitally important.  Taking the time to gather a large amount of dry, fine tinder material (along with plenty of kindling sorted by size) will be the difference between getting a good fire started and merely wasting your time with a bunch of smoldering leaves.
The tinder tends to be the most difficult to get right.  If you are using a lighter or have plenty of matches, you can get lots of things to burn.  If you don't have any of those items and are using flint and steel or a bow drill, your tinder selection must be perfect or you are in for a very frustrating time.  The tinder has to be fine enough to hold a small spark and actually catch fire.  Most commonly used tinder items won't do this well.
In my classes, I teach people how to identify tinder that will hold a spark and ignite.  Once we get the tinder together, we can take time learning the techniques of using the flint and steel, or bow drill to create the spark.
The tinder selection takes a lot of time and preparation.  Without spending the time to get the tinder right, students will never be successful at developing their sparking techniques.  I often wished I had some easily created "tinder training wheels" to give to students so that they could spend less time on preparation and more time practicing their techniques.
I didn't know it, but a friend of mine developed just such a product and has been selling it for several years.  The product is called "Fire Fixins" and was created by a Scoutmaster and outdoorsman named Jay Boggs.
Jay gave me some of his product to try out at a recent class I was teaching for him.  I eagerly took it home and gave it a try.  I wasn't disappointed.
The product (which is manufactured by Jay and his young son) consists of a small piece of easy-to-burn fatwood along with numerous strands of jute twine that are impregnated with wax.  The instructions on the package tell the user to cut a piece of the twine and separate it into a bunch of tiny strands arranged in a bird's nest shape.  The "nest" of tinder catches the spark and burns long enough to ignite the fatwood shavings you have added to it.  The whole "nest" will burn long enough to light your kindling if you have set your fire properly.
A friend's son had been asking me to teach him to light a fire with flint and steel.  Being a teenage boy, he had already mastered the art of setting a fire with conventional methods, but he was having trouble getting his tinder to hold a spark long enough when he used flint and steel.  It was the perfect opportunity to give the Fire Fixins a try!
Just to get the hang of things, we first cut a small piece of twine, fluffed it up and added some fatwood.  We lit it with a lighter to see how well it would burn.  The Fire Fixins were quite impressive.  A small piece of twine burned for nearly 45 seconds!
Then we broke out a flint and steel fire starter.  We took extra care to fluff the tinder into a very fine mass and started making some sparks.  On the third strike, my young friend was able to get the tinder to catch!  He had been working on that skill for months with no fire, but was almost instantly able to get the fire started when he used the Fire Fixins.
After he was comfortable catching the spark with flint and steel, I put him to the test.  He had to create a real fire that we could cook on using just the Fire Fixins, flint and steel, and wood from the woodpile.  It wasn't even a challenge.  Within a few minutes he had the fire burning brightly and gradually added fuel until we had a blazing bonfire.
I see two primary uses for Fire Fixins.  The first is as a set of fire making "training wheels" for anyone new to the skill.  That's exactly how I used the product and it worked well.  I think my friend's son is now ready to try the flint and steel with some more difficult tinder.  The Fire Fixins are a great confidence builder.
The second role is for use as an emergency tinder in a survival kit or bugout bag.  It would be comforting to know that you were carrying something that catches fire so easily if you couldn't find any natural dry tinder.  The Fire Fixins would be a great addition to your kit to help ensure your survival in any situation.
I highly recommend the product and thank Jay for introducing it to me!
Fire Fixins are available at CountyComm (and other sources) for $4.50 per package.  Considering that each package will start dozens of fires, this is one of the cheapest commercial fire starting products available.  Check it out.  I think it would make a great stocking stuffer for any prepper on your Christmas list.