Written by: Greg Ellifritz
I will admit right up front that I am not the most mechanically inclined guy. I don't really enjoy fixing things or working on "projects." With that said, I have accumulated some knowledge about fixing guns after attending a whole bunch of armorer certification courses. That doesn't make me a gunsmith.
Doing gunsmithing and doing armorer work look kind of similar, but are far more different than most gun owners understand. Armorers diagnose problems and replace parts. Gunsmiths actually make, adjust, and refine those parts that armorers can merely install.
With that said, you don't have to be a carpenter to do some basic home repair projects. Likewise, you don't have to be a vetted gunsmith in order to tinker with your guns. There are a wide variety of DIY gun projects you can undertake with the right reference material.
Gunsmithing Modern Firearms: A Gun Guy's Guide to Making Good Guns Even Better is the reference material you need to get started working on your own guns. Almost any project you might want to undertake is explained in this extremely well-illustrated 300-page hardback book.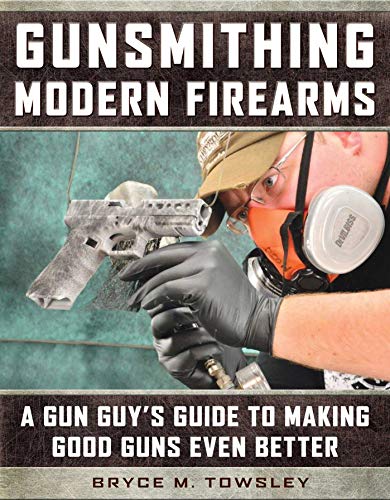 The book has chapters that cover all the details on the following gun projects:
Upgrading military surplus rifles
Diagnosing common gun problems
Building a tactical rifle
Refinishing guns
Customizing a Glock pistol
Building an AR-15 rifle from parts
Building a 1911 pistol from parts
Re-barreling a hunting rifle
Advanced projects that use a lathe
The chapter I enjoyed the most was Chapter 7, titled "This and That." It contained dozens of short tips that will help the unschooled gun tinkerer fix small problems or undertake simple improvement projects. That chapter alone could be a short stand alone book and provide most casual gun plumbers all the information they need to make common repairs.
The book is a valuable reference and should definitely have a place in your library if you do any work on your own firearms. Author Bryce Towsley hit it out of the park with this one. Order one as a gift for that person in your life who likes to mix guns with Dremel tools.
You can pick up the book on Amazon. You can also purchase a signed copy at www.brycetowsley.com.
The book publisher sent me a free review copy of the book with no expectations that I would endorse it. I have no financial interests in this publication. Neither the author or publisher is compensating me in any way for this review. It's a good book. I like to share good books with my readers.
Some of the above links (from Amazon.com) are affiliate links. As an Amazon associate I earn a small percentage of the sale price from qualifying purchases. It does not cost you any money.
If you would like to further support my work, head over to my Patreon page.