Written by: Greg Ellifritz
I got this drill from a comment my friend Dave Spaulding wrote on his Facebook page about a year ago. He and his co-instructor Bucky Buchanon were at the range developing some new drills.
The FYFO started out by looking at Justin Dyal's well known Five Yard Roundup Drill. The Five Yard Roundup involves four stages of fire shot at a B-8 bullseye target. Dave wanted to simplify the drill by making it a single stage and shooting a more challenging target (a 3″ x 5″ index card).
The drill is shot at the 3×5 card at five yards. It requires 10 rounds.
-Draw and fire five rounds two handed
-Shoot three rounds strong hand only
-Immediately transition the pistol to the weak hand and fire two more rounds.
A passing score on the drill is all hits in under nine seconds.
As for the par time, Dave justifies it in the following manner:
"As you recall, the par time for each phase is 2.5 seconds in the original (Five Yard Roundup) drill or ten seconds overall. Since there is no deployment from ready for each phase, we decided to knock the overall time down to 8.5 seconds, eliminating .5 second for each of the ready phases. We found out it is doable but VERY difficult. Since we want students to be successful (with a bit of work, of course!) we decided on a 9 seconds par time with all hits."
It's a tough drill. It's so tough that Bucky unofficially named the drill the "Five Yard Fuck Over" or FYFO. I don't know if Dave has kept the name, but I thought it was an apt description!
I shot this one last week. I didn't have any 3″ x 5″ index cards so I used the same sized block on PistolTraining.com's 1-2-R-3 shooting drill target.
I ran it three times with my primary concealed carry gun (a Glock 19). This drill was appropriate because I had just transitioned to the Ameriglo CAP sights that Dave designed.
I had been using the Trijicon HD sights for a couple years. I like how visible and fast the HD sights are, but there are some serious issues with regard to point of aim/point of impact at extended ranges. Shooting any target beyond 50 feet required aiming four or five inches low to hit. That frustrated me, so I decided to experiment with something new. So far I am liking the CAPs.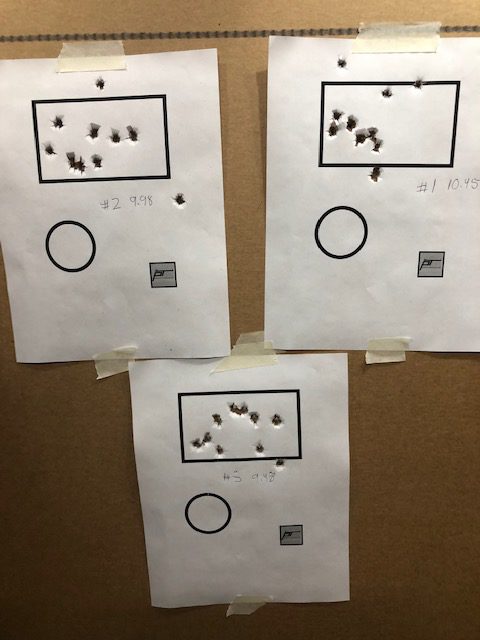 Round one: Two misses- 10.45 seconds
Round Two: Two misses- 9.98 seconds
Round Three: One miss (barely)- 9.48 seconds
I didn't meet Dave's exacting standards. That's OK. It gives me something to work on in future sessions.
I like the drill and will be making it a regular feature in my weekly shooting practice. Give it a try if you want a challenge.
Some of the above links (from Amazon.com) are affiliate links. If you purchase these items, I get a small percentage of the sale at no extra cost to you.