Written by: Greg Ellifritz
On Tom Givens' recommendation, I recently read the book Holloway's Raiders by Capt.E.R. Walt. It was a great book and described a special unit of the Dallas police department designed to stop armed robberies of small convenience and liquor stores. The publisher's book description is as follows:
"More than fifty years ago Dallas was under assault from hoards of vicious armed robbers with a penchant for violence. Police Lieutenant H. C. Holloway carried scars from a wild gun-battle with one of those criminals and a consuming hatred for them all. He devised a plan to hide shotgun armed officers inside likely targets with orders to shoot "hi-jackers" on sight. For more than two decades the unit he formed for that purpose made war on armed robbers with bloody and brutal effectiveness. They were called "Holloway's Raiders." This is their story."
The book provides detailed accounts of the history of the "shotgun squads" and their deployment throughout nearly three decades of police work in Dallas. The New York City "Stakeout Squads" doing much the same work developed quite a famous and notorious following in the late 1960's, but I had never heard of the Dallas "shotgun squads." They were used for many decades and didn't receive the same level of notoriety as their new York counterparts. Their achievements, however, were noteworthy. From the book:
"Holloway's direction is astounding. During the unit's tenure its members were involved in a confirmed 53 armed encounters in which they shot 31 suspects and killed 18 would-be hi-jackers and burglars. Some long time veterans of the unit insist that the actual number could easily double that."
What was even more astounding is that besides the criminal suspects who were shot, there was very little collateral damage.
"They paid the price of one officer shot to death and another dead in a car wreck. Perhaps the most astonishing statistic is that with all the bullets and buckshot flying within the tiny confines of small businesses that such a record suggests, not a single innocent civilian was ever hit by a bullet and only one clerk was injured by flying glass."
The book specifically details 36 of the armed confrontations where "hi-jackers" were shot. If you like reading exact details about police gunfights, this is a treasure trove of information.
Even more interesting to me was the book's description of Lt. Holloway, a 40 + year police veteran who was obsessed with killing armed robbers. People like Lt. Holloway don't exist in modern police departments. The liberal sprinkling of his quotes throughout the book made me wish I worked 50 years ago. Here are a few of my favorite Lt. Holloway quotes:
"Never give a hi-jacker the first shot…he might get lucky."
"I want a dead hi-jacker, not a dead officer, and a load of buckshot is the best means to that end."
"You let a hi-jacker get away and I don't want to see you when I get to the scene. You can leave your badge and gun. I don't want to see you there."
and my favorite…
"I don't want you to kill a hi-jacker without warning, but I think the click of an 870 coming off safety is warning enough."
The book was incredibly enjoyable to read. Any of you who are interested in gunfight tactics or police history will really like it. You can pick it up at Amazon.com.
If you would like to read more articles like this one, please sign up for my email updates.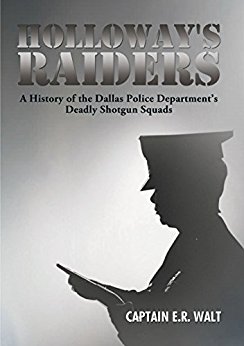 * Some of the above links (from Amazon.com) are affiliate links. If you purchase these items, I get a small percentage of the sale at no extra cost to you.