Written by: Greg Ellifritz
Shooting is a damn dangerous activity. In the last couple weeks, I've seen accounts of four different incidents where shooters have been hit by ricochet rounds coming off of garbage in the backstop, dangerous steel targets, or direct fire from a poorly placed target array. Let's take a look at these four incidents and see if we can learn some lessons…
The first incident comes from a friend of mine. He is an emergency room physician and a SWAT medic. He was doing some training with his SWAT team and he caught a round in his leg from an unlikely source. Here is the email he sent me (edited to remove name and agency identification):
I had an interesting experience while on the range this past week; thought I would share with you. I was training with a SWAT team at a local police range. We were shooting on an outdoor range at paper targets, backed by a dirt berm. We were doing rifle CQB drills, firing military 5.56 FMJ ammunition.
I stepped back from the firing line as we ran the team through a drill in relays. For the record, it was a warm day and we were running slick: eye and ear pro but no armor. I was about 10 yards from the targets (putting me about 12 yards from the berm) just watching when it felt like I was kicked in the left shin. Hard. I backed off a bit, pulled up my BDUs, and saw my lower leg covered in blood.
We called a cease fire and I hobbled back to the bench and grabbed my med bag. Wiping my leg with gauze, I saw a small circular wound, oozing blood. One of the team medics came over and wrapped me up with gauze and tape. At first, I could not find a hole in my BDUs and thought maybe something like a rock just flew back and struck me. A more careful search revealed a small hole through the pants.
Advantage of working with a SWAT team: their bomb tech busted out his portable x-ray machine and shot an image of my leg, revealing a foreign body. So, off to the hospital I went.
Films in the emergency department revealed a "6mm radio-opaque foreign body" i.e. a round that was 5.56 when it left the muzzle and was now 6mm in my damn leg! Location wise, it stopped short of hitting my fibula. Had the hit been more medial (over my shin) it could have broken my tibia. Of course, it also could have hit me (or someone else) in the face, groin, genitals, neck, etc. and caused some big problems. The trauma surgeon opted to leave it in, and I am taking antibiotics while the wound heals.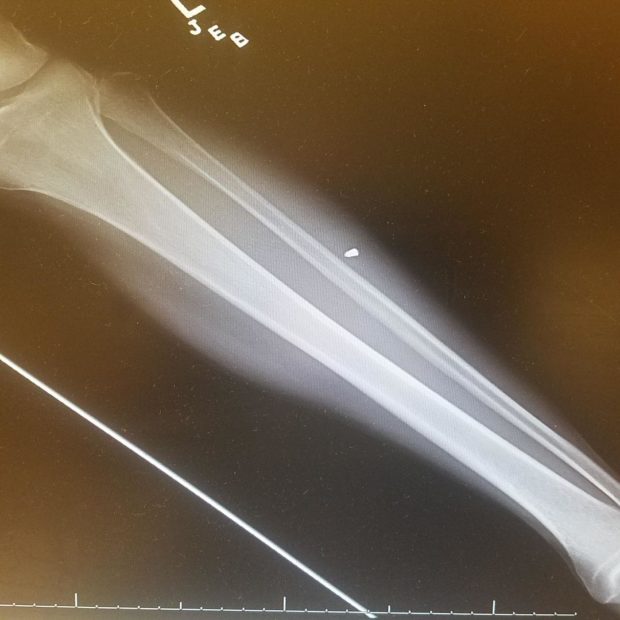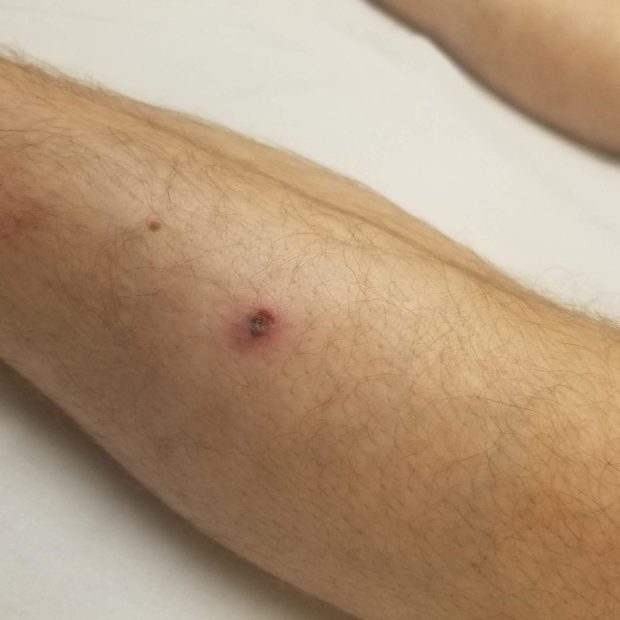 The team scoured the range and found a piece of rebar (!) buried in the berm. Best we can tell, the round ricocheted off the metal and into my leg.
Pretty crazy, no? I am a bit sore and limping slightly, but otherwise okay. I am not sure exactly what lessons we learned from this beyond the usual: wear eye protection; ensure your range is safe and free of potential hazards, and have a back up plan when your casualty is the team doc.
BTW, the security guys in the ED wanded my leg: it immediately triggered the detector. TSA is going to love me.
Incident two also came from a friend. Take a look at his face in the photo below. The bloody spot near his nose was caused when a ricochet came back off of a bad steel target and hit him in the face. He's alright, but that round could have caused a lot more damage if the conditions were even slightly different.
I read about incident three in American Handgunner Magazine. Check out the article: The Perfect Storm For A Foul-Mouthed Fella.
A police firearms trainer was running his recruits through some close range rifle shooting drills on steel targets. Somehow the recruits loaded their magazines with regular .223 ammunition instead of the safer frangible ammunition they had been using on the steel target.
The instructor got hit in the jaw by a bullet coming off one of the steel targets. He had a coworker pull a piece of copper bullet jacket out of his face and he thought that was the end of the incident. Years later, a dental X-ray (see below) revealed a piece of the bullet still embedded in the instructor's jaw.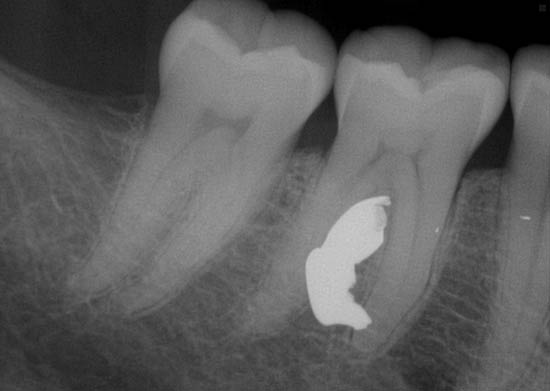 The final incident involved a civilian observer getting shot during a police firearms training session. Read the article below:
Civilian invited to observe police firearms training was shot after target was put in wrong place.
Officers were training in a "shoot house" that had no ballistic walls. They constructed the house using tarps as simulated walls and placed targets throughout the structure in such a manner that any bullets fired in the direction of the targets would pass through the "walls" and safely end up in the three-sided berm surrounding the shoot house.
Someone screwed up the target array and placed a target that required engagement from a position that sent the rounds fired out the front of the "house" where there was no safe backstop. The civilian observer was struck by a round.
All of these incidents could have been prevented. Sheer luck ensured that none of them resulted in a fatality. If you are running a range training session or shooting at a public range, pay attention to the five tips below in order to keep from feeling the impact from a ricocheting round.
Check your backstop. Look for large rocks, trash, or metal that may bounce bullets back out towards the shooter. I do a close inspection of every outdoor range I rent before I teach my shooting classes. You would be surprised what I've pulled out of backstops. Take a look at every target position and make sure that any shots fired at that target will safely impact the berm and not come back towards the shooter.
Don't shoot on damaged steel targets. A lot of ranges have cratered and dented soft steel targets that people continue to shoot. If the steel is soft and dented, the direction of the bullet spall becomes unpredictable. If your steel target has dents, craters, or cracks, don't shoot it.
Quality steel targets will be hardened armor plate with a minimum hardness rating of AR500. For rifle rounds, AR 550 is best. Don't use cheap junk steel targets. For more safety information about this topic read the article Steel Yourself.
No rifle rounds or shotgun slugs on close range steel targets. Unless you are using frangible rounds, you want to be at least 50 yards away from any steel targets you are shooting with slugs or rifle cartridges. Some cartridge/steel combinations require even more standoff distance. Check your steel target owners manual for instructions.
If you fire closer than that, your bullet or slug will come back at you with enough force to kill you. This is no joke. Don't casually shoot steel targets with rifles or shotgun slugs unless you have a safe standoff distance.
If you are shooting frangible rounds, ensure that every other type of ammunition is locked away far from any potential shooters. People are more stupid than you think they are. They will find a way to insert regular ammo into their magazines instead of using the frangible stuff. It is up to you as an instructor to stop that from happening.
Don't mix steel and cardboard at very close ranges. Most steel pistol targets require a safe standoff range of 20-30 feet. I regularly see target set ups like in the photo below where students are shooting closer than that safe range on cardboard and then shooting steel from a farther distance. This is asking for trouble.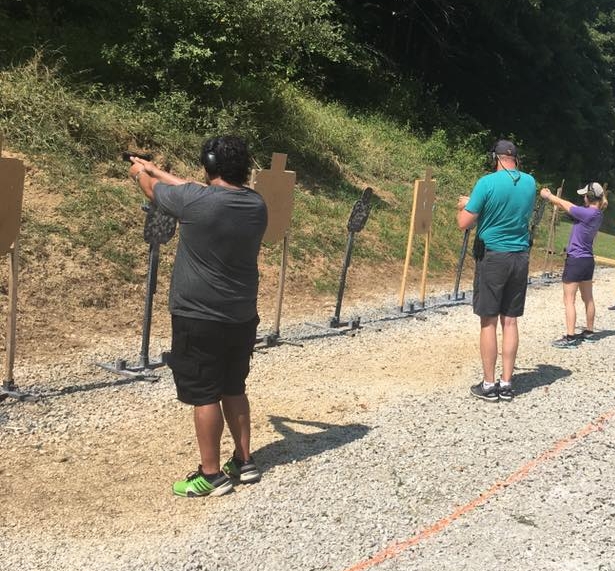 See my point above. People are more stupid than you could ever imagine. Someone will shoot the steel target from eight feet away. That someone will then endanger everyone else on the range when the bullet spall unpredictably hits someone else.
Don't tempt fate. Remove all the steel targets (or lay them flat on the ground) if you are shooting cardboard at close range.
Check your target alignment. On a square range, check out the safety of each firing distance you plan on using. Make sure that rounds fired from any angle or height will still impact the berm. Where this is most important is when you have students making head shots from very close range. Often, the angle of a shorter student's shot will put the round over the top of the berm. We also see problems when students spontaneously drop to a kneeling or prone position (yes, they will do this even if you tell them not to) and shoot at an upward angle.
In a shoot house, check each target at every distance that target could be engaged. Check the angles from when the target can be first engaged (far away), the closest position of expected engagement, and everything in between. Make sure that any rounds fired at that target do not hit structural components of the shoot house, other participants, or unsafe backstops.
Make sure every round fired from any position or any angle safely passes through the target and hits the berm. Students will miss even easy shots. Make sure there aren't any hard metallic objects anywhere near the target. You don't want a missed round creating a ricochet inside the shoot house.
Be smart about your target shooting. Pay attention to these rules and ensure that no one gets accidentally shot on your range.