Written by Greg Ellifritz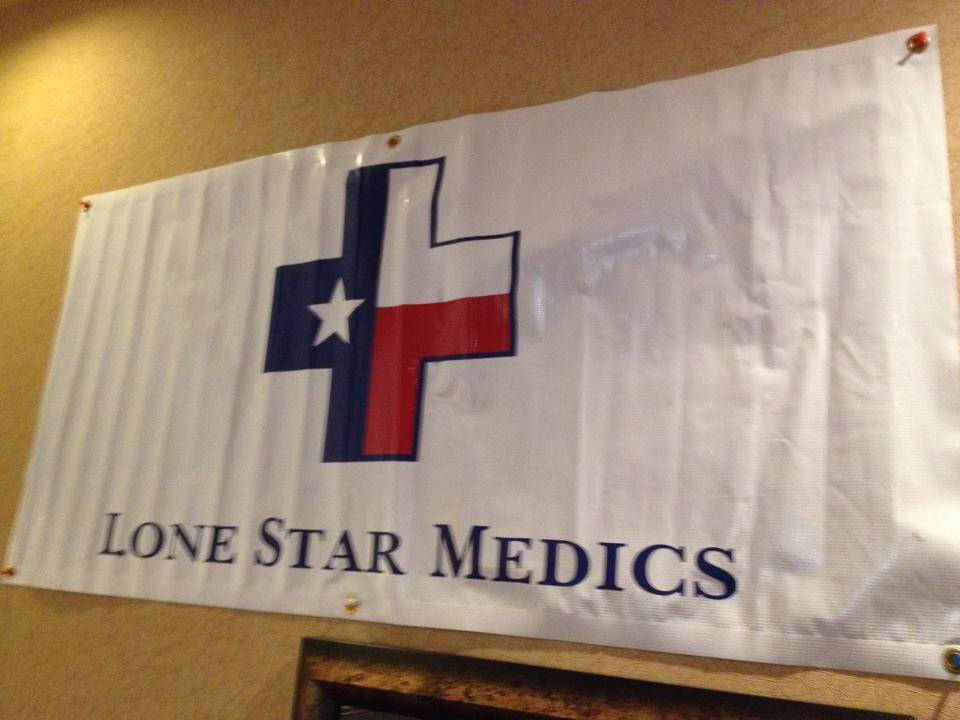 Last week I was honored to attend Lone Star Medics "Field and Tactical Medicine" conference in Dallas, Texas.  The conference was organized by my friend Caleb Causey, president of Lone Star Medics.  It was the first ever conference of its kind and was a great success.
The conference consisted of approximately 15 different instructors all teaching two-hour blocks of material.  The instructor list was a veritable "who's who" of tactical and austere medicine.  I didn't get to attend all the classes, as I was assisting Dr. Lauren Pugliese as she taught her veterinary medicine classes during some of the blocks.  Here's a quick summary of the classes I was able to make.
The opening class for me was Mike Rohan's splinting workshop.  Mike is an active duty Air Force combat medic and his experience treating orthopedic injuries was clearly displayed in class.  Mike took us through all of the joints on the body and how to immobilize them using a SAM splint.  Mike taught us how to make each splint and then turned us loose with partners to practice.  It was a very good review.
During the same block, Lauren took Dr. Jim Rinkle's advanced airway class.  Dr. Rinkle used pig tracheas and lungs covered with pig skin and secured to a board so that students could practice various surgical airways.  Lauren found the class to be very useful for advanced practitioners and said that it was an experience that most people will never be able to duplicate in the average first aid class.
After that class we attended an emergency dentistry class taught by Dr. Sherman House.  Sherman covered dental emergencies in a fun and approachable manner.  He went over how to treat injured teeth, what to include in a dental first aid kit, and how dental emergencies can progress to potentially fatal conditions.  I think survival dentistry is an often overlooked element of knowledge for most preppers.  The class was a great introduction.
Later that same day, most of the instructors gathered in a large conference room for informal skills practice.  Each instructor brought all of his gear and dummies and coached students in a hands on manner for anyone who wanted extra repetitions.  It was a valuable addition and allowed students an additional opportunity to practice their newly acquired skill sets.
On day two we started with a class from The Patriot Nurse covering the "Big Three" medical emergencies.  She covered basic disease prevention and treatment protocols for the most likely conditions that people will encounter in a survival or collapse scenario.  Rachel's class was a fast paced lecture jam packed full of useful information.
The final class we took was taught by Sam Coffman from The Human Path.  Sam is a former green beret who has studied herbalism with some of the world's best known herbal shamanic healers.  He covered various plants and herbs and how to use them medicinally.  I've been interested in medicinal plants for more than two decades and have never been to a better medicinal plant class than this one.  In addition to telling us what they plants were good for, Sam gave us the science behind WHY the plants work.  That element was missing in most medicinal plants classes I had previously taken.  I highly recommend training with Sam and plan on attending one of his longer classes in the future.
There were dozens of other classes that we didn't get to.  Topics covered included tourniquet use, underwater injuries, disaster response, medical active shooter response, drags and carries, hemostatic agents, and head injuries.  It was truly a smorgasbord of austere medical training.
I'll be attending next year.  You should as well.
If you would like to read additional articles like this one, please sign up for my email updates.