Written by: Greg Ellifritz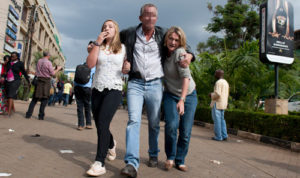 THIS ARTICLE offers the best reporting of the Nairobi terrorist attack to date. It's long, but its worth your time. Some interesting things have come out…
Police arrived but refused to make entry for several hours. Two uniformed police officers presumably ignored orders to stay outside and commanded a group of approximately 30 armed citizens to make a rescue attempt. This was independent of the work of the lone British army vet and the Israeli security contractors who were also making entry and pulling people out.
When the police and military made their first effort to take back the mall, they were ordered to pull out after some friendly-fire injuries.
Pulling out of the mall allowed the terrorists the ability to set up snipers, machine gun nests, and explosives. That made the final assault far more dangerous. I agree with the writer here, the big explosion wasn't caused by an RPG, it think it's likely that the military used explosives to collapse the ceiling on purpose. There was no safe way to get to the terrorists otherwise. Unfortunately, that action likely caused the death of numerous hostages as well.
There are two lessons to be learned here:
1) Don't depend on police response to save you in an event like this. You are on your own and the sooner you start acting for yourself, the better your survival odds will be.
2) Police/Military responders need to quickly attack, even if the odds are overwhelming. We can't let the terrorists establish fortifications, sniper positions, and explosive boobytraps. Every minute we keep the terrorists fighting us is a minute they can't use to fortify their positions. Make entry and HOLD YOUR GROUND! Retreat in this scenario will only lead to the deaths of more hostages and rescuers.