Written by: Greg Ellifritz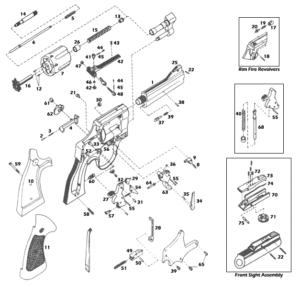 I was fortunate to spend 13 years as the primary armorer for my police agency. It was my responsibility to fix, upgrade, and maintain several hundred weapons owned by both the police department and the individual officers. The department sent me to every armorers school imaginable. I can fix just about any semi auto pistol, rifle, or shotgun we use.
But even after countless autopistol armorer's certifications, I have absolutely ZERO training in how to fix a revolver. I could swap grips and trigger springs, but that was about it. I was always scared to take that revolver sideplate off because I knew I couldn't put things back together again if something blew up. Fortunately, none of the department's revolvers ever broke, so I didn't really need to know much about them.
Everything was fine…until my personal revolver broke. I carry a relatively uncommon gun as a backup piece at work. It's a nickel plated Smith and Wesson Model 12, an airweight, six shot, K-frame snub. I like the gun because (as my friend Ed Lovette said) "It hides like a J-frame, but shoots like a real gun."
I was shooting it at the range a while back when the cylinder stopped revolving. The trigger would pull and the hammer would move back and forth, but the cylinder wouldn't revolve.
My lack of revolver repair knowledge had come to bite me in the ass. I didn't know how to fix it. I decided that I would remedy my deficiency in knowledge and learn whatever I need to know in order to fix my wheel gun.
I started by reading a couple gunsmithing books and watching a few videos on YouTube. I quickly figured out that the likely culprits contributing to my broken gun were either a worn or broken cylinder hand or a malfunctioning cylinder stop. I ordered two of each part (because I knew I would likely screw up the fitting) from Brownells and set out to replace the parts in my revolver.
Of course both of these parts involve hand fitting. It took about five hours work to remove the old parts, fit the new ones, and put everything back together again. It took so long because I had to constantly break down and reassemble the revolver to check the fitting of the two pieces. I think I removed and replaced every single part in that revolver somewhere between eight and ten times before the parts were properly fit. My friend John Motil (TDI general manager) helped me with the last bit of the fitting and served as an invaluable resource.
I got everything working. The trigger and hammer moved properly, the cylinder stop moved up and down, and the hand appeared to be perfectly fit. I put the sideplate back on and slid the cylinder into place.
It still didn't turn.
My elation at having "fixed" my revolver instantly disappeared. I couldn't figure out the problem. All the parts that controlled the turning of the cylinder were new and appeared to be properly fitted. The only thing I could think of was that the extractor lugs (which are where the hand "grabs" the cylinder to turn it) were worn. I'd never actually seen it happen but knew it was possible.
I opened the cylinder and compared it to an older Model 10 snub (that functioned properly) I had nearby. The extractor wear appeared the same. The only difference was that my Model 12 had this strange little piece of metal stuck in the extractor. It was so tiny I hadn't even noticed it. I removed the tiny chunk of metal with a brass brush. I closed the cylinder and all of the sudden the gun was working again! The cylinder turned perfectly.
It turns out that there are two tiny "extractor pins" that live under the extractor star. Their purpose is to keep the extractor properly aligned. One of these tiny pins broke off and wedged itself into the extractor star physically blocking the hand from engaging the lugs on the extractor to turn the cylinder.
All the hours I spent hand fitting those parts were completely unnecessary. The parts weren't bad. There was just a little chunk of metal blocking the hand from doing its job.
I learned a lot from this little experiment. In about five hours' worth of work, I essentially taught myself revolver armoring skills. I'm confident that I can now replace any part in a Smith and Wesson revolver and I'm glad I learned this valuable skill set. It's amazing what one can do with a couple of books and an internet connection. I also learned to slow down and thoroughly check out my guns before I assume a part is broken. If I had spotted that broken pin earlier, all of my gunsmithing would have been unnecessary.
But in this case, my ignorance and lack of good observation led to the acquisition of some useful skills. It's funny how life works like that.
Five hours' work and I can now fix all the guns I carry. That seems like a pretty good trade-off for me. It's a good feeling to have. How many of you can fix your carry guns? Don't you think that learning a skill like that is a little more valuable than spending yet another Sunday afternoon on the couch watching football?