Written by: Greg Ellifritz
Most of you collect guns. Sometimes I feel like I collect hearing protection.
When I started shooting at five years old, no one wore eye and ear protection. After all, "it was just a .22."
When I started shooting K-frame revolvers and shotguns more seriously in my teenage years, we still didn't use ear protection. I learned a trick from my dad's police officer friends. After firing the first cylinder of .38 reloads from my Smith model 19, I'd pluck out two empty .38 cartridge cases and stick them in my ears. That was the only hearing protection I used until I went to the police academy.
The department issued me a .45 auto. Those .45 empties don't fit in the ear canal as well as the .38s.
So after 15+ years of shooting without ear protection, taking quite a few bomb classes from the government, and being around about a dozen negligent discharges on indoor police ranges without hearing protection, I have some pretty serious hearing damage.
I use electronic hearing protection now and urge all my students to do the same. My issue is that with my bad hearing, even some of the best sound amplification just wasn't loud enough for me to hear my students' questions.
As you can see in the photo above, I've tried quite a few models. In fact, that pile is probably more than $1000 worth of hearing protection and that doesn't count all of the Howard Leight Impact Sport muffs I use as loaners and spares in my classes.
I've used (and still occasionally use) the following:
All of them work well. I like them all. I've taken week-long shooting classes with all of them. None are as loud as I prefer.
In February, I found a new favorite pair of electronic hearing protection. It's the Champion Pro Elite Vanquish Electronic Hearing Muffs.
The voice amplification on these is significantly louder than all my other models. That makes me happy.
I've used the muffs for almost seven months. During that time, I used them in two shooting classes I attended as a student, five classes I taught as an instructor, and in my weekly personal practice shooting sessions. They've been exposed to rain, sweat, dust, and falls. I haven't been disappointed.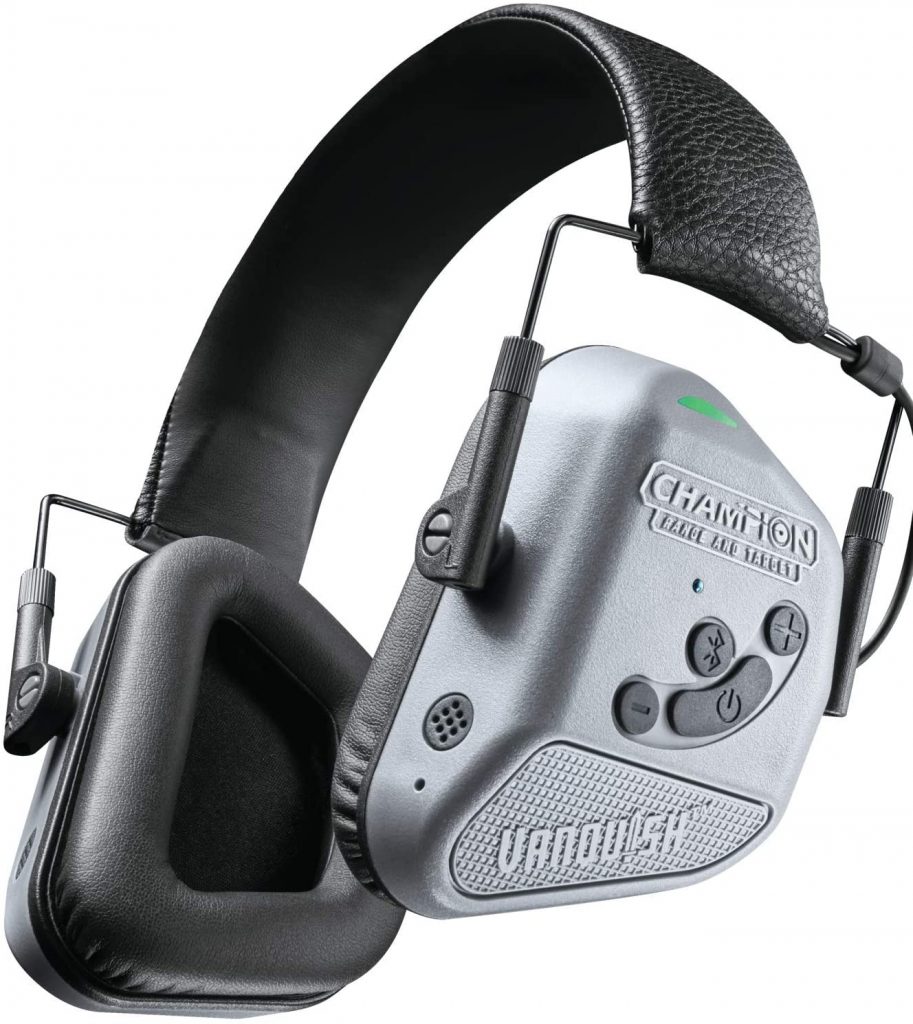 These recharge via a USB cord. I have mixed feelings about this method. I usually just leave my muffs in my range bag and am not used to putting them on the charger after each shooting session. Because of that, a couple times I've had dead batteries. They work as standard (non-amplified) muffs just fine if that happens. I haven't tested how long they remain charged (the literature says 100 hours), but I've completed several two-day shooting classes without recharging.
The company also makes a model that uses AAA batteries instead. That may be a better option for you, but I have zero experience with that particular model.
They are quite comfortable and they are also Bluetooth compatible. They seamlessly connect to my phone and I can listen to some tunes or a podcast while I shoot in practice if I choose to. I've even taken to wearing them while mowing the grass. I may be getting old.
I posted this review up on my Facebook page and my friend Phil Wong made this additional comment:
"I got a pair each for my wife and myself, not just for range use but also for home defense. Of course having quick-donning active ear protection that can help you more clearly hear "bumps in the night" is good, but the Bluetooth feature is even more helpful in that you can call 911 and talk with the dispatcher without having one hand occupied holding your phone to your ear. Plus, you can also set these up as a "trusted device" which will unlock your cellphone as soon as you turn them on, which can save a step in the process of calling 911. The phone-unlock feature happens when you hit the Bluetooth button to turn that feature on and pair the muffs with the phone."
That is a level of utility with these muffs that I hadn't previously considered. With Phil's consent, I shared his comments here.
If you are looking for something new in the way of hearing protection, I think you'll like these. You can pick them up on Amazon or at your local retailer. I think they are a good investment.
Some of the above links (from Amazon.com and others) are affiliate links. As an Amazon associate I earn a small percentage of the sale price from qualifying purchases.
If you would like to further support my work, head over to my Patreon page.