The latest hoopla in the gun marketing world is today's introduction of the Smith and Wesson M&P Shield pistol.  The gun is similar to the M&P series pistols, but is slimmer, a single stack, and has a shorter barrel.

From the description on S&W's website:
"SPRINGFIELD, Mass. (April 12, 2012) — Smith & Wesson Corp. today announced the
introduction of the company's new slim, concealable, lightweight, striker-fired polymer pistol
with the unveiling of the M&P Shield™. Available in 9mm and .40 S&W, the new M&P Shield
features a slim design combined with the proven and trusted features found in the M&P Pistol
Series. From the pistol's easily concealed one-inch profile to its optimized 18-degree grip angle,
the M&P Shield offers professional-grade features that provide simple operation and reliable
performance.
Chambered in 9mm and .40 S&W for proven stopping power, the M&P Shield features a high strength
polymer frame with a black, Melonite® coated stainless steel slide and barrel. Both
models are standard with a 3.1-inch barrel, which contributes to an overall length of 6.1 inches
and an unloaded weight of 19 ounces. For fast tracking and smooth target acquisition, the M&P
Shield is standard with a 5.3-inch sight radius and has been enhanced with a short, consistent
trigger pull measuring 6.5 pounds. Featuring a quick and audible reset made possible by the
striker-fired action, the M&P Shield allows multiple rounds to be placed on target both
consistently and accurately.
The accuracy of the pistol has been further refined with a white dot stainless steel front sight and
a white two-dot stainless steel rear sight. The M&P Shield retains familiar operating features on
the left side of the frame, including a simple takedown lever, flat profile slide stop, magazine
release and thumb safety. The flush mounted safety allows users to carry the pistol comfortably
and confidently. For improved firearm control, the M&P Shield is standard with a fixed textured
backstrap and additional texturing at the forward portion of the grip. An extended trigger guard
has also been added for operation of the pistol with or without gloves.
Internal features of the new M&P Shield mirror the standard M&P Series. Its stainless steel
internal chassis reduces flex while providing a stable shooting platform and its low-bore axis
helps maintain ease-of-use and a comfortable feel. Other familiar features include a passive
trigger safety that prevents the pistol from firing if dropped and a sear release lever that
eliminates the need to press the trigger in order to disassemble the firearm. A loaded chamber
indicator is located on top of the slide.
The M&P Shield is shipped with both an extended and flat magazine offering users the ability to
customize the length of the grip. The 9mm M&P Shield offers an 8+1 or 7+1 magazine capacity
while the .40 S&W M&P Shield is standard with either a 7+1 or 6+1 magazine capacity. The
M&P Shield will also be introduced in a California compliant model. Both the 9mm and .40
S&W M&P Shield have an MSRP of $449 and are available now."
Here is a link to their marketing video to see it in action (or just to check out a hot girl stripping off her t-shirt to reveal a sports bra).
I like the Smith and Wesson M&P series.  They are reliable pistols, hold up well, and are great for people who need a more adjustable grip.  Smith and Wesson has made an innovative product.  They've done what Glock has been told to do for years…create a single stack 9mm compact pistol.  They also came out with the gun in .40 as well.  I would prefer the 9mm, as I bet the .40 in this gun has some pretty stout recoil.  But for some reason, people like that horrible .40 round so the gun manufacturers continue to churn them out.  Do me a favor, if you get one, buy the 9mm.  I promise you'll be happier with it than the same gun in .40.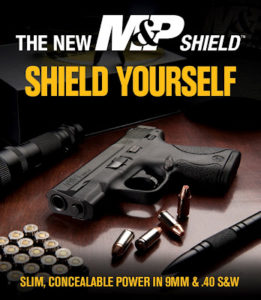 BUT DON'T BUY IT YET!  Another innovative sales tactic S&W is using is introducing the gun AFTER IT HAS BEEN MADE AVAILABLE!  You can order this gun now and get it next week.  That's unheard of in the firearms business.  Everyone introduces a gun and lets the hype build 6-18 months until the gun is actually available.
Note I said you CAN order it.  I didn't say you SHOULD order it!  Every new gun has some issues that haven't been identified by the factory in early production models.  The factory takes user feedback, tweaks the gun over the first couple model years and eventually gets it right.  Smith and Wesson may have already done this, but I doubt it.  I'm certain there is still tweaking to do.
Be patient.  Let some other fool be the guinea pig by buying the first production run.  Wait a year or so, then buy one.  You'll get a better weapon out of the deal.
If you absolutely need a slim, single-stack 9mm right now, check out the Kahr PM-9.  It's about the same size as the shield and we already know it works.  Carry it for a year and if you don't like it, trade it in for the new S&W Shield!
4/24/12 UPDATE:
I still haven't shot one of these little devils yet, but I did get to play with one in the gun store today.  It is very thin, light, and feels great!  The sights are very nice for this type of weapon.  The trigger was better than the "regular" M&P and had a very quick and noticeable reset.
I have three friends who have shot it.  All are experienced shooters.  No one reported a single malfunction.   They said recoil was quite manageable.
It seems like Smith and Wesson has a hit with the shield.  I'll probably be buying one…as soon as you guinea pigs work out all the bugs for me!
4/29/12 Update
I finally got to shoot one of the Shields last night.  A friend loaned it to several of us instructors at TDI and told us to "beat it up".  We did our best to accommodate him!
Over the course of about an hour we fired around 200 rounds out of it.  I put 75 rounds through it myself.  It ran flawlessly.  Not a single malfunction.  Here are a few of my thoughts:
– It is plenty accurate and the sights work well.  We were shooting at dusk and light was fading, but I was still able to see the sights.  I was shooting on steel, so I didn't do any formal accuracy testing, but it shot to point of aim.  I took it back to 25 yards and ran two magazines through it shooting as fast as I could reacquire the sights after recoil.  14 hits on a 10″x 12" steel plate out of 15 shots fired.  No accuracy problems noted!  This thing is more than good enough for its intended role.
– The recoil is quite controllable.  It seems similar to a Kahr PM-9, but maybe slightly less snappy.  You know you are firing the gun and it jumps around a little, but any experienced shooter should have no problems.
– There is a big difference in recoil control between the seven and eight round magazines.  The eight round mags make the gun significantly easier to control.
– The trigger is the best I've found in a gun this size.  Very short take up and a very noticeable reset.  It's much better than the standard M&P trigger.
Smith and Wesson has a great gun in the Shield.  I will be buying one for sure after I've given them a while to fine tune things.  I think my Kahr PM-9 is headed to the gun show!