I just scheduled a new medical class for August 10th in Northern Kentucky. Details are below. I hope to see some of you there!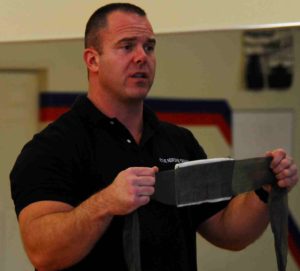 Trauma Medicine – What to do When Things Get Ugly…
WHAT:  First Aid for serious injuries within the 911 environment.
Gunshot Wounds, Mass Casualty Events, Natural Disasters.
Presented by Greg Ellifritz   http://www.activeresponsetraining.net/
WHO:  Interested parties with some solid First Aid training, not just the Basics.
Wilderness First Aid is a perfect preparatory course!
Attend at your option, but you might learn more with some background?
WHEN:   Saturday 10 August 2013    9:00 – 4:30.   Snacks and Lunch are included in the cost.
WHERE:   Union Presbyterian Church – Union KY 41091
TOPICS:
Students will learn to stop traumatic bleeding from gunshot and knife wounds using the latest pressure bandages, tourniquets, and hemostatic agents.   Self care and care under fire will also be addressed.
Students will also learn simple patient assessment techniques, how to treat a sucking chest wound and tension pneumothorax as well as field fracture immobilization and expedient C-spine immobilization.   Options for assuring clear airways (including improvised surgical airways) will be practiced.
In addition, students will learn how to treat themselves and families in the event of a long-term breakdown in our current medical system.  Wound cleaning and disinfection under field conditions, injection of local anesthesia and wound closure (including minor suturing) will be practiced in our "trauma lab".   If time permits, students will integrate all of these skills in several practical scenarios.
Information about what types of drugs to stockpile for natural disasters or a collapse in the health care system will be discussed, along with methods for legally acquiring those pharmaceuticals.   The instructor will also discuss what items should be included in a comprehensive medical kit and how to improvise those items in an austere environment.
CLASS SIZE:   Will be contained to the first 25 deposits received, I will return others.
And am considering a January date for a repeat session.
COST:   $100.   Send in a deposit of  $25 to the address below.  Pay the rest at the door.
Deposits are non-refundable unless the class fills.  But transfers are No Problem
BRING:   An open mind, ready to learn A Lot in a fast-paced class.
Something to use for note-taking.
Wear older clothes that will let you lay on the ground or floor.
Dress for the weather in case we go outside for scenarios.
DON'T BRING:  Video cameras, First Aid Kits, firearms other than your CCDW.
Any gear or equipment beyond what you carry in your pockets every day.
NEXT STEP:  Mail your deposit to:  Barry Akins    10082 Indian Hill Dr    Union KY 41091-9521
Please email questions to anvil.feather@hotmail.com