Written by Greg Ellifritz
Last night I learned that my friend and fellow firearms instructor, Paul Gomez, had passed away suddenly at the young age of 40.
I first met Paul  in June of 2003. He and Andy Stanford traveled to Ohio to take TDI's Level 4-5 Handgun Class. I just happened to be teaching that weekend. I knew Andy Stanford, having read his books and articles for years, but I'd never heard of the odd little guy he brought along. That changed very quickly. The odd little guy Andy brought to class with him turned out to be one of the most knowledgeable and well -read people I've ever met.
Paul and I hit it off quickly in class and I ended up working with him and Andy quite a lot…not that either of them really needed any work on their gun fighting skills. In fact, Paul and I spent so much time discussing tactics in the live fire house that the boss came in to yell at me. Apparently, Mr. Benner expected me to train all the other students as well! I had simply lost track of time while picking Paul's brain about all kinds of arcane tactical knowledge.
On the last day of class, both he and Andy showed up wearing kilts. That's right…kilts…with holsters…at a shooting school. No one quite knew how to take those two, but I instantly had a plan. It was scenario day in my shoot house. The students would have to come through the house and be met by various role players armed with airsoft guns. I altered the set scenario and had one of my role players hide down low in a hard corner and gave her orders to get as many airsoft BB's up Paul's skirt (I mean "kilt" ) as possible. She managed to fire a few BB's that scored before Paul lit her up with his own gun. Paul and I  laughed about it all afternoon.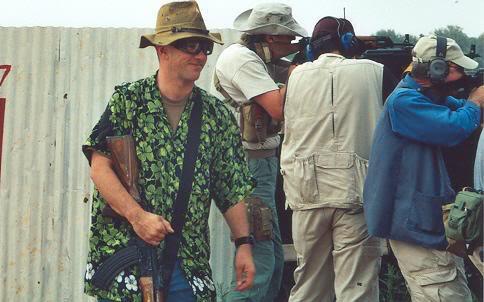 Paul came back down to TDI in 2004 to take our fledgling Extreme Close Quarters Class. This was before he had begun teaching with Craig.  Paul was on a true quest to find out everything he could learn about winning the close quarter gunfight. We had another great time both during class and sharing a few beers in the instructor quarters when class was finished.
On the final day, I got dressed up in the padded suit and attacked Paul in a gun grab scenario. Paul was one of the few students who kept his gun that day. I still remember him screaming verbal commands so loudly during our fight that I thought my eardrum would burst, even through the bulky FIST suit helmet I was wearing. Like the previous class he had taken, Paul probably didn't need our training. He was already performing at a high level. But that was just how Paul was…if there was something to learn, Paul was there.
In those two classes, I saw Paul as a student, not as the instructor most of you know. He was everything a combatives instructor could ask for. He asked intelligent questions, provided logical debate and performed awesomely in class. Even though he had already attained a high skill level, he tried everything we asked him to do so that he could evaluate for himself exactly what technique would be best to learn and teach. I have modeled the attitude he displayed in my classes when I've been in other professional instructors' classes and it has always worked well. Paul had the knowledge of an advanced instructor combined with the humble, information-seeking brain of a perpetual student. There are few like him in today's ego-driven world.
The roles changed in 2005. I attended a ShivWorks Extreme Close Quarters Concepts class that was co-instructed by Paul. It was payback time. I suffered for each of those BBs shot up Paul's kilt as he lit me up with countless simmunition rounds at very close range. I've attended a lot of classes over the years, none could match the intensity of the ECQC class that Craig and Paul put on.
I thought I had a lot of the answers before taking the class. After given the benefit of Paul's and Craig's knowledge, I realized that I had only been scratching the surface. That ECQC class where Paul played the bad guy, was the single most influential firearms training class I've ever taken. It was made even better when Paul stayed after class to show me why an AK-47 shouldn't be run like an AR-15. Those simple lessons he presented have influenced every student I've taught since.
After that class, Paul and I spoke a lot via email and telephone. I found that he was one of the most inquisitive people I've ever met. Months would go by between our conversations and then out of the blue, I'd get the call. "Hey Greg, it's Gomez!" followed by some of the strangest questions I have ever been asked. Paul was out to find the truth about everything and if he thought you had a piece of the puzzle, he'd contact you to make sure he was getting everything right.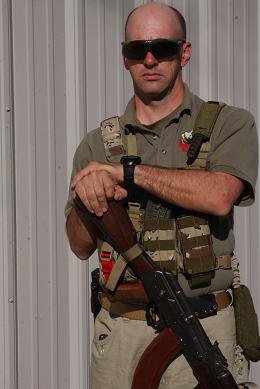 I still remember Paul calling me a few years ago to ask me about one of Dave Spaulding's techniques. I explained things the best I could and when that didn't satisfy him, I said "Why don't you just call Dave?" I gave him Spaulding's phone number. The next week I get a call from a very confused and shell shocked Dave Spaulding. Dave asked "Who is this Gomez guy? He said he knew you and he kept me on the phone for two hours talking about tactics. He asked me questions about my system that even I hadn't thought about!"
That's just how Paul was. That's why he developed an encyclopedic knowledge of the history and development of the firearms training field. The man was truly on a mission and didn't know when to quit. He just wouldn't stop searching until he found the answers. And everyone in the firearms community has benefited from Paul's obsession.
I like to think that I'm well-read in the field of firearms training.  I met my match with Paul.  The man truly was the complete repository of all tactical knowledge.  One day I came up with a copy of the original 1983 SWAT magazine where Dennis Tueller had first described his "Tueller Drill".  It was a piece of firearms training history that I hadn't seen before or since.  I immediately thought that I had to give it to Gomez, knowing that few others could appreciate my find.
I expected Paul to be ecstatic when I told him about my gift.  He said "You should have told me you needed a copy.  I have 3 others at home."  No matter how hard I tried, I couldn't impress Paul.  If I started down a path that I thought was unique, I'd talk to Paul and find that he had already traveled the same road to its completion.  The man was truly inspirational.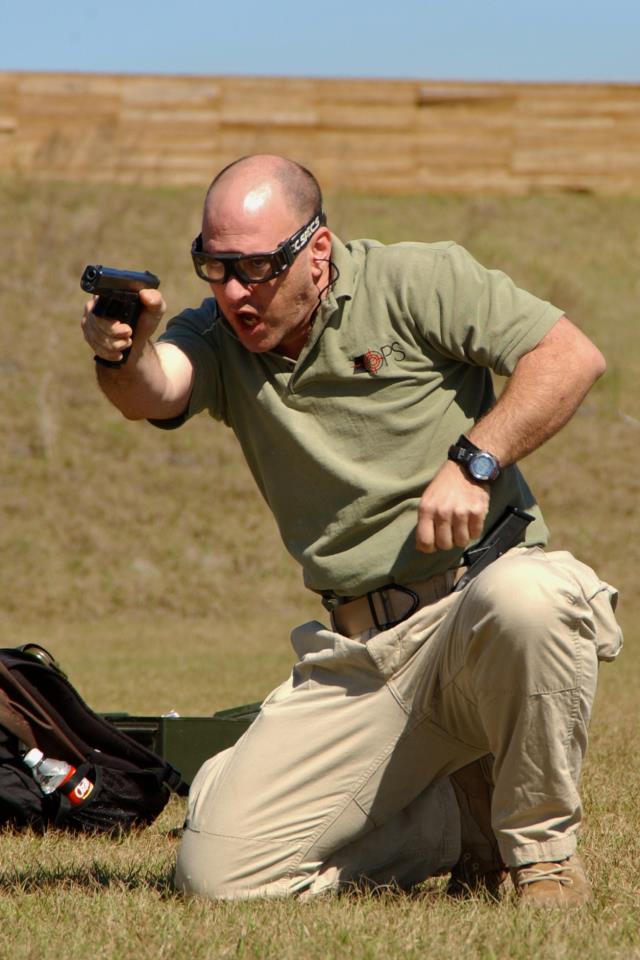 Paul was extremely complimentary about my teaching and the classes offered by TDI.  I don't know how many people I've met who first heard of me or TDI through Gomez.  They number in the hundreds.  I was honored when Paul wrote earlier this year that the ECQ Class at TDI was one of the top five classes he'd ever taken.  Even though Paul was running his own business and courting his own customers, he was always honest about recommending another company's training if he thought it was valuable.  There are very few trainers in the world today that I could trust as much as I did Paul.  I steered as many students as I could his way.  In the end, I can only hope I repaid the kindness he showed to both me and to TDI.
I haven't seen Paul for a couple of years.  We've kept in touch with frequent Facebook messages and occasional phone calls.   I'll miss having his authoritative answer for every question I could ask.  When I met Paul, I was in the role of the teacher.  But looking back on our friendship, I realize that he taught me more than I ever taught him.  He left us too soon.
Tonight I'll drink a Blue Moon in your honor, Paul.  Rest in Peace, my friend.  I hope we get the chance to meet again on the other side.
For those of you who never had the honor of meeting or training with Paul, please check out his YouTube Channel where his common-sense instructional videos will live on in his absence.