Written by: Greg Ellifritz
Last week I posted a link to a firearms drill I was practicing. The drill involved switching from right hand to left hand and shooting as quickly as possible.
A couple readers wrote in and asked me how exactly I perform my pistol hand transfers. There are lots of different ways to do this. As long as fingers stay off of triggers, any method should be adequate. I do things in a particular way because it maximizes my control over the pistol in the event one of my hands is injured.
Rather than swapping the pistol side to side, I switch from top to bottom, a technique I picked up from Bob Kasper's book Sting of the Scorpion.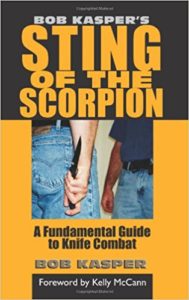 I seat the pistol into the receiving hand by using the "wipe" technique I learned more than 20 years ago in the first pistol class I took at The Tactical Defense Institute.
The technique I used is pretty easy to explain verbally, but more difficult to adequately cover in writing. I made a short video to explain how I do it. Please keep in mind that I am not a video dude. I don't make them and I rarely watch them. This is a single take done in my former girlfriend's back yard. Please excuse the lack of production value.
If you are interested in how I do my hand switches, please watch the video below.
Back to text articles tomorrow.