Written by: Greg Ellifritz
In a Weekend Knowledge Dump a couple of weeks ago I mentioned the fact that police officers have been increasingly under attack from flammable objects and incendiaries. Police officers on riot duty are regularly getting pelted by Molotov Cocktails and other flaming devices. Looking for a solution to such a problem, I found the First Alert Tundra 400 fire extinguisher.
Quite honestly, I didn't look a bit at the extinguisher's testing record. I just bought a couple because the were the only extinguishers I could find that were small enough to actually fit in my police uniform cargo pant pockets. I wanted cops on the front line of a riot or protest to have something immediately available to put out any type of flaming incendiary missiles thrown at them.
Most cops have a full sized fire extinguisher in their police cruisers, but that may be far away from the front lines. I wanted something that I could carry on my person should I get deployed to a riot scene. I picked up a couple of the small First Alert Tundra extinguishers and carry them in my duty bag. Should I be deployed to a violent protest, I wanted something that I could stash in my uniform pants cargo pocket that may put out a small fire.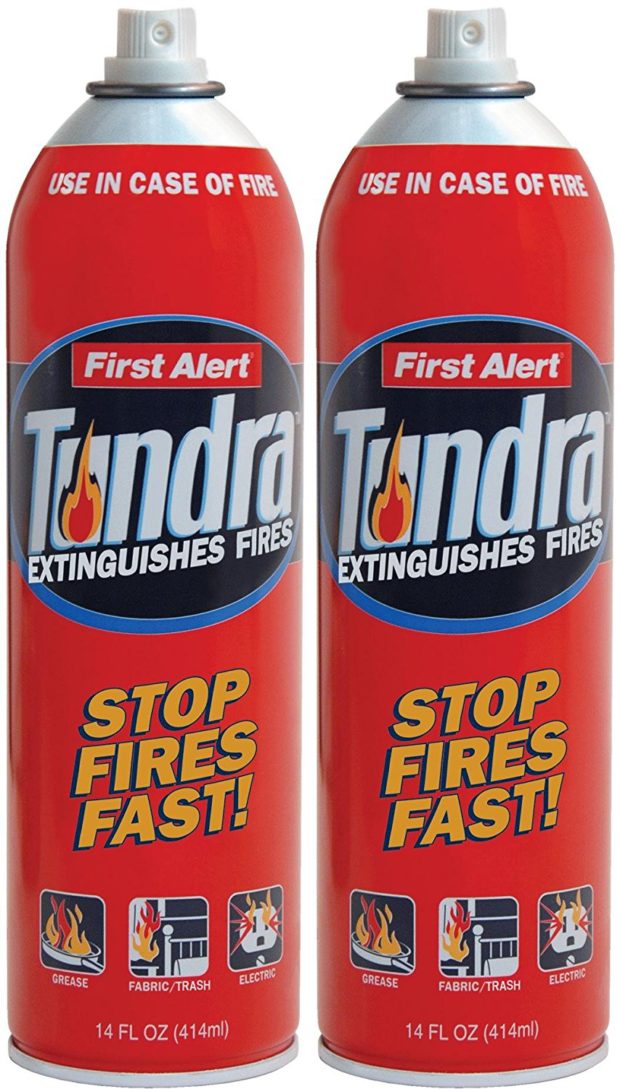 Most police uniforms are made from a polyester blend material. As the fabric burns, the polyester melts and sticks to the skin of whomever is wearing it. Flammable missiles are a real problem for cops responding in polyester uniforms.
As soon as I recommended carrying a portable fire extinguisher, I got several emails from readers stating that my chosen recommendation of the Tundra extinguisher was inadequate. Some cited this article in consumer reports noting that it wasn't worthy of consideration in comparison to "real" fire extinguishers.
I decided to test my purchase. In this decidedly unscientific examination, I poured some gasoline on an old police uniform shirt. I placed the shirt into my backyard fire pit and lit it on fire. I tried to put out the fire with the First Alert Tundra extinguishers. Here is a video of the results:
At work, I've put out half a dozen car fires, a few kitchen fires, and several mulch fires with a large, standard ABC dry chemical fire extinguisher. I have to say that the Tundra 400 did not extinguish the burning uniform shirt as quickly as I would have expected with a dry chemical extinguisher. With that said, it did work. The shirt was fully soaked with gasoline and on fire. The extinguisher put out the flames in just a few seconds.
Just to make sure it wasn't a fluke, I re-soaked the shirt with more gasoline and lit it on fire again. I put the flames out just as quickly the second time using the same fire extinguisher.
I was honestly surprised at the Tundra 400's capacity. Even after I extinguished both fires, I estimate that I still had 75% of the contents remaining in the bottle. This little extinguisher will put out quite a few small blazes.
The First Alert Tundra 400 may not be as good as a standard dry chemical fire extinguisher. But a standard dry chemical fire extinguisher doesn't fit in my uniform pants pocket. I will continue to carry my little First Alert Extinguishers until I find something better for the purpose. I would suggest that any police officers responding to crowd control duties pick up something similar. Spending $35 on a couple of fire extinguishers is a far better use of money than spending thousands as a patient in the local hospital burn unit.
For those of you unwilling to spend a few bucks to ensure your safety, my friend Nick Hughes sent me a link about using a soda bottle or can as an improvised fire extinguisher. It's a handy trick to remember if you don't have a fire extinguisher ready.
Antifa and other anti-government protestors aren't giving up any time soon. If you are responsible for keeping large groups of violent individuals in check, it would be useful to know how to put out your flaming uniform in the event the crowd starts using incendiaries. If you need an even smaller fire extinguisher, I can also recommend the Mini Firefighter.