Written by Greg Ellifritz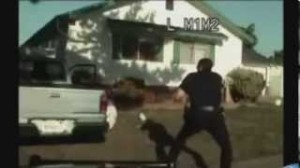 Tom Givens, firearms trainer and owner or Rangemaster Shooting School made an important observation in a recent class I attended.  To paraphrase, Tom said "The average person gets most of his education about firearms and gunfights from television and the movies."
It's an important idea…and it's important that we as firearms trainers counteract the tendency to allow fictional media create models of likely events in our head.  Those fictional models are far removed from reality when bullets start flying.
Rather than allowing Hollywood to shape our ideas about what happens in a gunfight, let's watch a few instead.  Below is a short compilation of surveillance and dash cam footage of police gunfights.  While it is true that the nature of a police gunfight is very different from that of an armed citizen, both cops and armed citizens can learn from this compilation.  Take a look:
Police Shootouts 2016 (GRAPHIC FOOTAGE)

Your tactical homework this week is to watch this video and answer the following questions:
1) Do the scenarios depicted here match up with the gunfight you imagine yourself being involved in?
2) What do people do after they have been shot?
3) How would better positioning (both before, during, and after the fight) keep the cop(s) safer?
4) Does your range training simulate ANY of these type of encounters?  If not, how can you add some realism into your training routine?
After you have viewed all of the shootings, pick one that is most similar to what you may encounter on a day to day basis.  If you aren't a cop, the motorcycle robbery (where the criminal was shot by an off-duty cop) might be a good one.  You can also imagine that you are walking or driving down the street as an armed citizen and see one of these gunfights go down.  What would you do?
Take that one scenario and war game it.  Would you get involved?  If so, how?  How would you position your self before, during, and after the shooting to avoid being hit?  Is your carry gun up to the task at hand?  When would you call police?  When and how would you provide medical care (and to whom).  How would you avoid being shot by responding police officers?
There are lots of things to think about here.  Watch the video and see what stands out for you.
If you would like to see more articles like this, please sign up for my email updates.