I just finished reading Prepper Guns: Firearms, Ammo, Tools, and Techniques You Will Need to Survive the Coming Collapse. I genuinely enjoyed the book. I had honestly thought I had already read all the worthwhile firearms books on the market. I was wrong. I missed Prepper Guns. It's a significant contribution to the world of firearms literature.

The author's description of the book is as follows:
Food, water, and shelter are very important to survival. But you must also be ready to protect what is yours, because if somebody stronger, better prepared, and better equipped takes it all away, you will die. Your family will die. The only way to protect them is with firearms.
Written with the law-abiding civilian in mind, Prepper Guns covers the firearms and tools needed to survive, not only for defense, but also for foraging. It is a comprehensive look at the realities of the firearms a prepper should have. Written by Bryce M. Towsley, a firearms expert and a full-time gun writer with thirty years of experience, it steps away from the "conventional wisdom" that is often spouted by prepper publishing and takes a hard, honest, look at the reality of the firearms, ammo, tools and training needed to survive at home and on the road.
Prepper Guns takes a careful look at each category of firearms, ammo, sights, and accessories. Other topics include gun care and maintenance, as well as some simple gunsmithing and reloading to keep firearms repaired and ammo on hand. Finally, Prepper Guns has training suggestions and drills, plus a look at the psychology of survival, using the expertise of some of the top people in the world in these fields.
If you are worried that bad things are coming and are trying to prepare, this book is the most important piece of gear you can buy. Because if you can't protect your family, your food and your home, nothing else really matters.
The book has more than 120 pages of information about every type of rifle imaginable and the relative utility of each one. After the rifle chapters, the author writes another 60 pages about the most commonly available handguns, handgun stopping power, and which handguns are most useful in a survival context. He then finishes the book with chapters on shotguns, body armor, bug out guns, silencers, and night vision.
Overall, I found the book to be one of the most useful firearms references I've read. It really reads like an updated and improved versions of the classic Boston's Gun Bible.
I liked the author's common-sense wisdom, casual tone, and well placed irreverent comments designed to skull stomp some of the gun industry's sacred cows. If salty (though not obscene) language or digs aimed at liberal politicians bother you, you should probably skip this one.
My issues with the book are minor. The author is a big fan of big bullets. I like big bullets too, but I think most shooters are better off with a .38 or 9mm than a caliber starting with a four. I also think the author's focus on scope sighted precision rifles takes up more of the book than I would have liked. It's clear that the author really enjoys his precision rifles and the book reflects that. As a "prepper gun" however, I think long range rifles are some of the least useful weapons in the survivalist arsenal, especially in urban environments where ranges will likely be short.
That's ok. Bryce Towsley wrote the book. I wouldn't expect his opinions to perfectly mirror mine. It's his book and he should write about the products in which he believes and uses. I'm not going to stop reading a book just because the author carries a different caliber gun than what I prefer.
This book would be exceptionally valuable to the beginning shooter who is looking to expand his arsenal. It would also be useful for a shooter who is only familiar with one weapon type and is looking to branch out into other kinds of guns. For shooters who have been in this game for awhile, the book is a welcome dose of common sense in a world full of misinformation.
Don't be turned off by the "Prepper" title. This isn't a book designed solely for the Doomsday Survivalist. It's a useful reference for anyone looking to learn some more about all of the weapons available for purchase and carry. Pick this one up. I think you'll like it.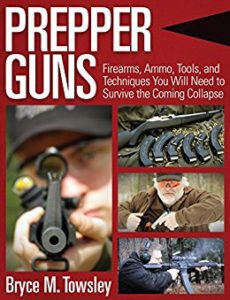 FTC Disclaimer: The author provided me with a copy of the book free of charge. He did not provide this copy in exchange for any review or mention on this website. I am receiving no compensation from the author or publisher for the sale of this book or for providing this review.
If you purchase this book from one of my Amazon.com links, I get a small percentage of the sale at no extra cost to you.