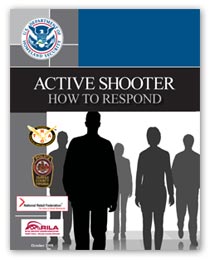 Last week several news outlets reported that officers from the Border Patrol were complaining about the content of some training they received.  According to one Border Patrol union website, all officers had to take the FEMA online course IS-907 – Active Shooter:  What You Can Do.  These online courses are very popular among law enforcement.  They are free and can be taken any time.  I've taken nearly a dozen over the years.  While I've found most of them to be rather dry, the information they impart is generally pretty good.
Apparently, the Border Patrol Officers didn't like the content of this particular course.  According to the news articles, the armed Border Patrol officers thought that cowering in fear or "throwing things" at an active shooter might not be the best way to solve the problem of stopping a rampaging killer.  Why not just shoot him?  Advocating fleeing, hiding, or throwing things instead of simply taking the shooter out (and likely saving dozens of innocent people) didn't seem like the best plan to the officers who have sworn to protect and serve.  I can't really say that I disagree with them.
You can see (and take) the course  for yourself at the link HERE.  Take a look at it.  I went through the course myself and have some thoughts…..
Overall, the information in the course is fairly sound advice.  The overview of past incidents, and the evacuation/sheltering advice is excellent.  There were some parts of the course that were factually inaccurate:
1) "Typically, the immediate deployment of law enforcement is required to stop the shooting and mitigate harm to victims."  This is not true. Often, the killer flees or kills himself when he either runs out of ammunition or victims to kill.  More often than that, citizens (both armed and unarmed) intervene and stop the killer.  Less than 50% of active shooter incidents are stopped by responding law enforcement officers.
2) "Because most incidents last only 15 to 20 minutes, individuals at the scene must be prepared to deal with the situation until law enforcement personnel arrive." While I agree that individuals must be prepared to handle the active shooter before police arrive, the 15-20 minute length is in error.  According to the latest research, Active Shooter events are averaging approximately six minutes in length.  And the six minute figure includes statistical outlier events like the one in Norway that lasted more than an hour.  Most are completed in less than four minutes.
3) The course advocates taking the following priority actions in the face of an active killer:
Evacuate: If there is an accessible escape path, attempt to evacuate the premises.
Hide out: If evacuation is not possible, find a place to hide where the active shooter is less likely to find you.
Take action: As a last resort, and only when your life is in imminent danger, attempt to disrupt and/or incapacitate the active shooter.
I have no problem with the idea of evacuation as a first priority.  It is the single most successful intervention that has been taken by victims in previous attacks.  It is the safest thing to do for the individual; but what if that individual has the ability and willingness to do something to stop the attack?  Active shooters have ended their murder spree most quickly when they have been confronted by armed individuals (either citizens or police).  Armed confrontation has been the best historic intervention in these incidents.
Yes, it is dangerous for an armed individual to confront an active killer, but to relegate armed intervention to "a last resort" option, will likely lead to far more deaths.
4) Officers may "Use pepper spray or tear gas to control the situation."  I'm unaware of any active shooter event where this has occurred.  Responding officers will locate and the shooter and end the shooting, most likely by using deadly force, not tear gas.
This seems like a decent online course for unarmed office workers to take.  The recommendations in the class are fairly decent for an unarmed population.  The course of actions advocated in the course should NOT be presented to armed law enforcement officers.  It is completely inappropriate to hide and throw things at an active shooter when you are armed with a firearm. Advocating such actions will likely place the officer in MORE danger than he/she would face by shooting the killer.
In the 10 historic active shooter events when a single armed law enforcement officer has engaged an active shooter, the officer has successfully stopped the killer seven times (Research by Ron Borsch).  That's a 70% success rate!  Why aren't we teaching officers how to successfully locate and engage the shooter, rather than hiding and throwing things?  Officers have engaged and made a difference without any specialized training in the majority of previous cases.  We should be training them how to drive that success percentage even higher rather than telling them to disengage and hide.
If officers are willing to carry their guns off duty and willing to face the dangers inherent in  engaging  the shooter, they should be given training in how to do it successfully.  They shouldn't be forced to endure online "Duck and Cover" indoctrination.   The best way to save lives in an active shooter event is to stop the shooter as quickly as possible.  It's really that simple.  If the officers are willing to do the job, they shouldn't be encouraged by their employer to run and hide.