Written by: Greg Ellifritz
I got this challenging drill my friends at Justified Defensive Concepts. They had been working on a new drill and announced it on their Facebook page. Here is the drill description directly from their page:
"The Justified Defensive Concepts B8 Bonanza:
Target: B8 bullseye
Distance: All shots fired at 25 yards from ready position
Sequence:
– 10 shots in 30 seconds
– 10 shots in 20 seconds
– 10 shots in 10 seconds
Scoring: Hero or Zero scoring. Anything outside the 8 ring is – 10. 8, 9, and 10 rings scored as usual. 300 points possible, X count breaks ties
We've run it a few times and figure if you can score 270 or above you're an Ace!"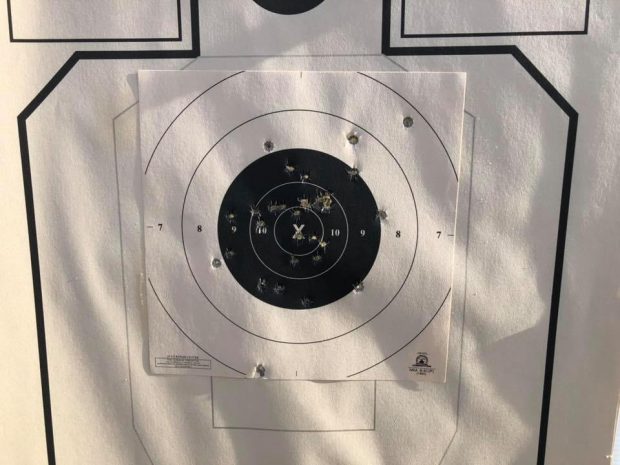 I shot it last week. With "zero or hero" scoring, I was a zero. With that said, I'm not horribly appalled at my performance.
I ran the drill three times with my Glock 19. The first time was so bad I didn't even score it. It had been too long since I had shot at long distances with my pistol.
I tried again. "No go" according to their scoring parameters, but I totaled 259 points.
On my final run with the Glock, I failed the "zero or hero" status, but scored 272 points. I don't feel too bad about that.
After three runs with the Glock, I got bold enough to try it with my 9mm S&W Shield. Due to the limited magazine capacity, I shot eight rounds per stage rather than the normal 10 rounds the drill requires.
Eight shots per stage gives a maximum score of 240 instead of the normal 300. I shot 203/240 with the Shield. Not horrible, but not great either. It shows how much one sacrifices when moving from a full sized pistol to a compact gun. I might try the drill next week with my Glock 42. We'll see.
If you are a good shooter, this is a challenging drill and I think you should try it. If your skill levels aren't so good, I would run the same drill starting at 30 feet rather than 75 feet. Once you pass, increase the distance for your next attempt. Slowly work your way to the 25 meter required distance.
If you need some training to tune up your score, I'd highly recommend taking a class from Justified Defensive Concepts (the originators of this drill).