Written by Greg Ellifritz
The shooting drills below were compiled by Dan Brady and Will Ruprecht from a combination of shooting classes each has attended. Dave Spaulding posted the drills on his blog.
The drills are all timed and times are tight. This would be a good drill to use to evaluate what shooting skills you need the most work on. Some of the standards are pretty tough. All are timed. You can use any silhouette target you like, but only "A-Zone" hits count. I use a simple blank 8.5″ x 11″ piece of paper as a target. This one is shot at 7 yards.
Here are the drills:
1) Ready. 1 shot on 1 target/ 0.8 Sec
2) On target. 2 shots on 1 target/ 0.5
3) On target. 1 shot on 2 targets/ 1.0 Sec
4) On target. 1 shot, reload, 1 shot on 1 target/ 3.0 Sec
5) Draw. 1 shot on 1 target/ 1.5 Sec
6) Draw. 1 shot on each of 3 targets/ 3.0 Sec
7) Draw. 2 shots on 1 target/ 2.0 Sec
8) Draw. Sidestep. 2 shots on 1 target/ 2.0 Sec
9) Draw. 5 shots to the chest, 1 shot to the head on 1 target / 4 Sec
10) Ready. 2 shots strong hand, 2 shots support hand on 1 target/ 4 Sec
11) On Target. 1 shot, Tap, Rack, 1 Shot on 1 target/3 Sec
12) Draw. 2 shots, Reload, 2 shots on 1 target/ 5 Sec
13) Face 180 away from the target line, Draw. 2 Shots on each of 3 targets, Reload, 2 shots on each of 3 targets/ 8 Sec
Total: 43 Rounds
I shot this one the other day and found some of the stages to be very difficult and others relatively easy. As you can see from the targets below, I blew a few of the shots trying to make the times given on some of the stages. I re-shot each missed stage until I made the time and got my hits.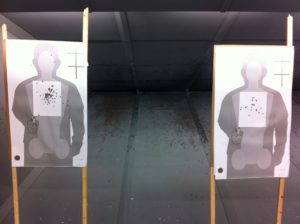 I ran through with both my Glock 21 out of a duty holster and my Glock 19 from concealment. It ended up being a little over 100 rounds total (including the re-shoots) and was a good practice session.
I think this drill would be even better by using it for multiple dry-fire repetitions. Set the par time on your shot timer for the appropriate time and use an unloaded gun (triple checked) to make sure you get your trigger presses in before the buzzer. I'll be using it extensively when I get my new SIRT training pistol.
Give it a try. It may be a bit humbling!