Written by: Greg Ellifritz
I got this drill from the Modern Service Weapons website. The 10-8 pistol standards #2 is a drill you can use to track your progress over time. There are no absolute standards. You only compete with yourself each subsequent time you shoot it. The drill is a tough one. It requires speed, but it brutally penalizes lack of accuracy. Here's the drill:
7 yards
1) Failure drill – 2 body, 1 head
2) Bill drill – draw and fire 6 body
3) 1 +1 – draw and fire 1 body, slide lock reload, 1 body
10 yards
4) 1 + 1
5) 5 body 1 head
6) Failure drill, slide lock reload, failure drill
15 yards
7) Bill Drill
8) 5 head box
25 yards
9) Bill Drill
42 rounds total. If you start with 10 in gun, you can get through the 7 yard line without extra setup.
Scoring:
Scored as aggregate of time for each string, with penalties as follows (scoring zones from USPSA and IDPA targets, respectively):
A/-0 = no penalty
C/-1 = +1 seconds
D/-3 = +5 seconds
Miss =+10 seconds
Missed head shots are also a +10 second miss penalty. Your final time will then be your raw score plus your penalties.
I shot this one cold using my police duty gear (Glock 21 in Safariland ALS holster with Safariland closed-top magazine carrier.) It was brutal. I went a little slower than I normally shoot so that I could guarantee my hits. That strategy didn't work. As you can see from the target below, I had one low head shot and one outside the A-zone.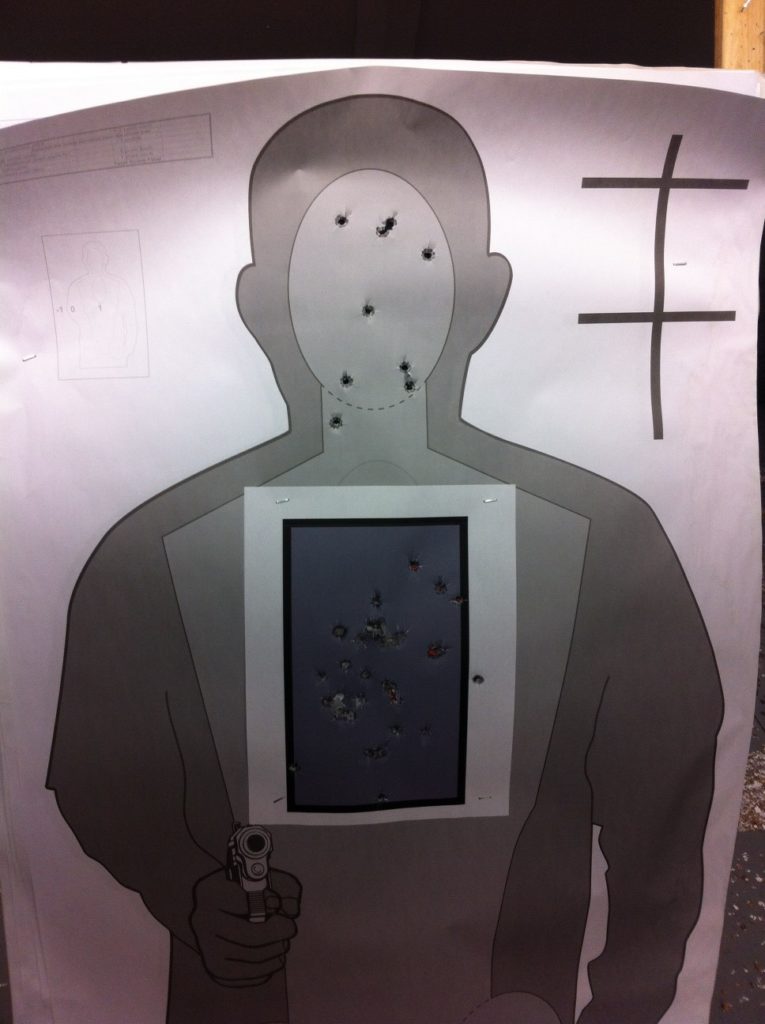 My total time for all the stages was 55.51 seconds. Add in 11 seconds for the miss penalties and my score is 66.51.
I plan on running this one regularly to track my performance changes over time. Give it a try and let me know what you think! Good luck!