For most of my police career, after I arrested a criminal, we took inked fingerprints on a traditional FBI fingerprint card. Now it's all done electronically. When I saw a shooting drill that was inspired by the old school card stock fingerprint cards, I had to try it just for nostalgia sake.
Check out THE AGC TRAINING DRILL.
Description of the drill (as written on the site linked above) follows:
All of the various sized squares and rectangles are numbered 1-4.
The drill consist of 4 separate strings, and on each string the shooter has to engage a set of 4 targets in numerical order, starting with 1 and working towards 4.
Each target is also shot with the number of rounds that correspond with the number on the target. So the target labeled "3" is shot 3 times, the target labeled "4" is shot 4 times, etc.
On each string, the PAR time also decreases.
First string as no PAR, second string is 10 seconds, 3rd string is 8 seconds, 4th string is 6 seconds.
Any misses, shots fired out of order, or shots fired over time incur a 1 second penalty.
Where the drill really requires some thought is in planning which targets to shoot when because a specific target can only be engaged once per drill. So if I shoot the larger rectangles on string 1 or 2, they are now out of play for the strings that have tighter PAR times.
You can download the target at Printable Target: AGC Drill v2.0
I first shot this one cold at three yards with by Glock 19 from the ready position. If my rounds broke the line, I scored them as hits. I made all the times (saving the largest targets for the final six second par time) but dropped three rounds.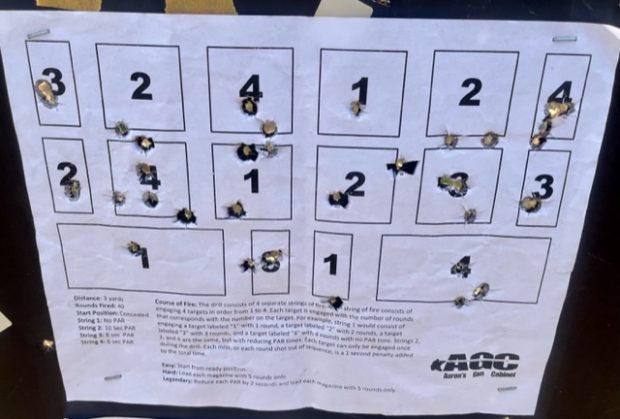 I then ran the "hard" version of the drill, loading only five rounds in each magazine (forcing a reload on each stage). That was a lot tougher. I went over time on the last two stages and missed six shots.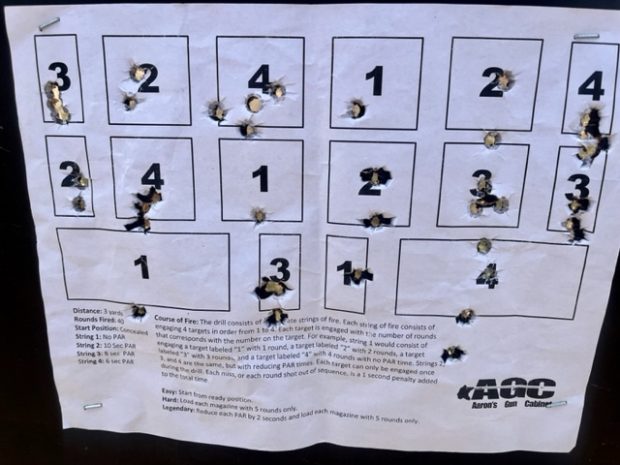 I thought the drill was fun and caused me to think a little book. I recommend it and will be adding it to my practice schedule. Thanks to Aaron's Gun Cabinet for the innovative and fun practice session.