Written by Greg Ellifritz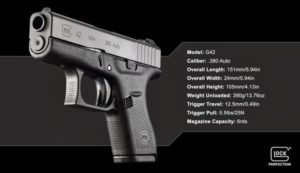 Last weekend I got the chance to put a few magazines of ammo through a new Glock 42 .380 pistol owned by a friend.  The little 42 stirred up quite a storm when it was introduced at this year's SHOT show.  If you are unfamiliar with the gun, here is the link to Glock's spec page.
I was actually quite impressed by the gun.  It is too big for me to carry as a pocket pistol.  The exterior dimensions are almost identical to my 9mm S&W M&P Shield.  The Glock is quite a bit thinner and a little more than half the weight.  It "feels" smaller than it is, but you would have to have some pretty loose pants or big pockets to actually carry it in a pocket holster.
The gun shot well.  I only put 26 rounds through it, but my friend says he's fired more than 400 rounds from all different manufacturers and has yet to experience a malfunction.
It was easy to hit 12″ steel plates with the gun at 25 yards,  Recoil was VERY mild.  The gun provides enough surface area for a full hand grip and is much more controllable than my Ruger LCP in rapid fire.  Overall, I would say the 42 is more comfortable to shoot than the gentle-recoiling 26 in 9mm.
The trigger feels a little different than the average Glock.  To me, it feels more like a slightly lightened version of the NY1 trigger spring that is an option with the other Glock pistols. Considering that the trigger spring is different than the rest of the Glock line, operating by compression rather than extension; I should have probably expected that.  I quickly got used to it, but it's not quite "Glock."
I think this one will turn out to be quite a popular carry and home defense piece, especially for recoil sensitive folks or people with arthritis who find larger calibers painful to shoot.
While the gun I shot has functioned flawlessly, I'm still leery about purchasing a gun in its first model year.  Every gun has initial bugs and it usually takes a while for the factory to identify and correct them.  I'll let some other folks be the guinea pigs for now, but I'll definitely be looking to purchase one in a year or so.  I think you'll like it!
One other quick note….
You all know how difficult it's been to find affordable practice ammo in the last couple years.  Supply is improving, but it's still tough to find good ammo bargains.
I tested a new supplier for my 9mm practice ammo as well this weekend.  LAX ammo was selling factory new 115 grain 9mm ball for $239 per thousand with free shipping, so I decided to buy a few thousand rounds and give them a try.
I shot over 500 rounds through my Glock 19 and Shield with no malfunctions.  The ammo ran flawlessly.  The loads seemed a little bit stouter recoiling than my usual Winchester white box staple, so they weren't downloaded any.  I'm not being paid to endorse their stuff, but the ammo was of good quality at a reasonable price.  Give it a try!
If you would like to read more articles like this, please sign up for my email updates.