Written by: Greg Ellifritz
I've been down at TDI teaching my impact weapons class the last couple days.  As per my custom, before and after class I generally tend to shoot a lot of practice rounds at a couple of the beautiful ranges they have down there.
One of my fellow instructors recently acquired one of the new Hudson H-9 pistols just introduced at SHOT show this year.  The Hudson H-9 is a unique design that attempts to make a striker fired pistol feel like shooting a 1911.
My instructor friend let me play a little bit with his new gun.  It was the first time I had ever handled a Hudson.
By no means was my shooting session anything close to a complete pistol evaluation.  I just put some rounds through the gun to see how well it shot.  Most of you likely haven't played with one of these yet, so I thought you might like to hear about it. It's a neat gun.
Cy Hudson is the gun's designer and owner of the manufacturing company that physically produces the pistol.  He was actually a student at ours at TDI when he shot for the West Point pistol team.  After serving as an army officer, he left the military and founded a pistol company.
The H-9 is a steel framed 15-shot 9mm.  When I first picked it up, it generally felt like a 1911, but the lower bore axis and reduced grip circumference made it feel different.  Not good.  Not bad.  Just sort of 1911ish, with some slight differences.
I started out by putting a magazine of 124 grain ball ammo through the gun from the distance of twenty feet.  I shot fairly quickly, but not blazing fast.  It certainly seemed to group well and put the bullets exactly where I was aiming.
The Trijicon HD sights were custom made for the pistol and they were very visible and fast to line up.  Felt recoil was very low and the gun didn't have hardly any muzzle flip.  As an obviously subjective measure, I would guess that the felt recoil was probably 25% less than my Glock 19.  It's soft shooting.
The trigger took a little while for me to get used to.  The trigger pivots from the bottom rather than the top.  Zoom in on the picture at the beginning of this article.  You can clearly see the gun's unique firing mechanism when you look at how the trigger moves.   The top of the trigger actually travels farther than the bottom.  It's a little odd, but easy to get the hang of.  It felt like a 1911 trigger with just a little more take up and a slightly less discernible reset.
I ended up putting 45 rounds through the gun.  Shot to shot transitions were faster than with my 9mm Glocks.  I had no malfunctions in the three magazines I shot.
The gun's owner said when he first picked up the pistol, he had a problem with the magazine release button.  It was apparently sized slightly out of spec.  He sent it back to the factory (at Hudson's expense).  Hudson fixed the problem free of charge and shipped the gun back to him in a few days.  Since he's had the gun back, he and several other shooters have put a total of 285 rounds through the gun with zero malfunctions.
Obviously, I would want to shoot a whole lot more bullets out for the gun before I would consider it reliable enough for defensive purposes, but it's off to a good start.
I like the pistol design.  It's accurate, easy to shoot, and light recoiling.  It's also one of the first true innovations we've seen in the defensive pistol industry in a long time.  I hope it succeeds.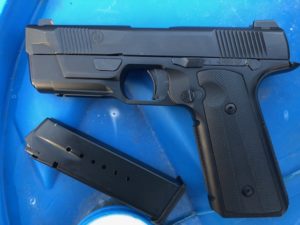 FTC disclosure:  I have not received any payment for this article by either Cy Hudson or any of his employees.  Hudson has not given me any form of  compensation for my writing.  I don't own the gun and I am not being payed by anyone for publishing this article.