Written by: Greg Ellifritz

Last weekend I attended my second Rangemaster Tactical Conference.  I was very impressed.  It was a three-day conference and pistol match located at the excellent Rangemaster training facility in Memphis, Tennessee.  Host Tom Givens arranged a top tier event that attracted 22 high quality trainers and 137 students.
I presented a two hour block on "Armed Citizen Response to the Terrorist Bombing".  Despite being in the last slot on Sunday (when many people had left early to travel home) I had a class of more than 35 students.  Everyone seemed to enjoy it.  It was a great group of folks to teach.
I also shot in the pistol match.  It was a 40 round match that combined basic "draw and shoot" standards with a reactive target scenario.  Total time was added up for each stage and added to the scenario time.  I'm happy with my 12th place performance out of 116 top quality shooters.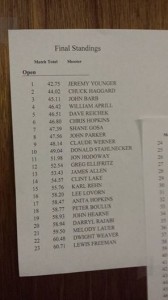 Besides teaching and shooting, I also attended several classes as well.  Below are some quick summaries and some of my notes from each class:
John Farnam's "Urban Rifle/Carbine Trends"
John talked about the evolution of the carbine as a police/civilian self defense weapon.  He talked about the weapons he sees in class, what works, and what doesn't.  He also talked about options for air travel with rifles.  A couple of notable quotes from his presentation:
"The $600-$700 AR-15 is full of crap parts.  Most guns like this will be shot only minimally.  People who shoot regularly will see sub $1000 ARs fail on a regular basis."
"You better learn to use the gun right as it comes out of the box.  Because some day things are going to go bad.  Someone is going to hand you a gun and say 'Let's go!'  Learn to run a gun!  I can run a gun and I can probably run it better than goofy who is shooting at me.  This is the attitude I strive to provide my students."
You can sign up for John's classes HERE
Tom Givens' "Defining the Threat"
Tom talked about using statistics to design a realistic training program.  He discussed the weakness of using police or military gunfight statistics because they aren't a valid model for civilian gunfights.  Tom suggests looking at shooting reports where off duty and plain clothes cops (FBI and DEA) were involved.  Those situations more closely mirror those encountered by armed citizens.
64 of Tom's students have been involved in gunfights.  62 won.  In Tom's analysis of these 64 events, he found that the "average" gunfight:
– Was the result of an armed robbery or home invasion
– 1-2 suspects were highly likely
– 3+ subjects were not uncommon
– The range was between three and seven yards
– "3 shots at 3 steps in 3 seconds"
Tom suggests that students' primary goal should be to train to win under these conditions before working on other skill sets like contact shots, alternate positions, or long range shooting.
You can sign up for Tom's classes HERE
Karl Rehn's "Handgun Shooting Performance and Human Factors"
Karl presented research across a wide variety of subject fields.  He looked at how students' performance degraded when they went from a full sized gun to a compact one (lower skilled shooters lost about 20%).  He also studied red dot handgun sights and found that they were great for small targets at long range, but actually slowed the shooter at extremely close range.
He also presented a very interesting case study about shooter grip strength.  He proposed an idea about hand strength that I  believe is true, but hasn't been noted anywhere in the shooting literature.  Karl and I will be teaming up together to write an article combining Karl's theory with some exercise advice from me to remediate the problems he identified.
You can sign up for Karl's classes HERE
Mark Loreto's "Traveling under HR-18 and the LEOSA"
Mark is an attorney and discussed some of the overlooked areas of the law that allows current and retired cops the right to nationwide concealed carry.  He covered quite a few cases where the law was improperly applied and cops found themselves in trouble.  Did you know that you may be allowed to carry your gun, but that HR 218 doesn't exempt you from prosecution under state magazine limit laws?  You better not carry your Glock with more than seven rounds when you visit New York!
The other thing Mark brought up was that the LEOSA act doesn't supersede the Federal gun free schools act.  There are usually state level exemptions of police officers, but an out of state officer may be prosecuted.  Mark suggested that cops also get state CCW permits as many of them have exemptions that provide greater latitude in and around schools than having a police ID will provide.
Claude Werner's "Designing Partner Training Drills"
Claude talked about how spouses or family members can constructively work together on training drills.  A couple of tips he shared were:
-Most people's training involves the trainee and one training partner (or target).  That is reminiscent of two dueling old west gunfighters…and just isn't realistic.  There are generally other people involved in real life…almost everyone will have friends, family members, children, or co-workers with them in the event of an attack.
-The family safety plan should be written, rehearsed, and trained.
-Integrate cell phones into your planning.  Can you dial 911 on every one of your family members' cell phones?
– Does your spouse know how to remove your gun from every holster you wear?
– Do you know how to safely hand a gun to a spouse so that he/she can be armed?
Besides these points, Claude had one other great suggestion.  We all know that we don"t take criticism from our spouses well.  Claude suggested videotaping the practice session and allowing each partner to self critique rather than respond to the criticisms identified by their spouse.  Buying a video camera is much cheaper than marital therapy or a divorce!
Sign up for Claude's classes HERE.
Steve Moses' "Developing a Defensive Knife Class for Female Students"
Steve has a lot of experience in this arena and shared the valuable tips he's learned when teaching female specific knife classes.  I liked a lot of his ideas focusing on simple techniques and retaining the blade.  I'll be stealing a few of his drills as well!  It was a great class.
You can train with Steve HERE
William Aprill's "Fatal Choices- What we know about Violent Criminal Actors and Victim Selection"
William put on an excellent summary of much of the available research on how victims are chosen by their prey.  William is a practicing mental health practitioner and did a "deep dig" on the published research that really turned some commonly-held ideas upside down.  This should be mandatory material for anyone interested in self protection.  You can listen to some of William's ideas on this Ballistic radio podcast.
William and I are collaborating on a combination "Worst case Scenario" class for the future.  Stay tuned!
Overall, the Rangemaster Training Conference is one of the best values for your training dollar I've ever seen.  There's very few places where such top quality trainers  congregate in the same venue.  Thanks again to Tom Givens for hosting it!  Put it on your training calendar for next year!
If you would like to read more articles like this, please sign up for my email updates
.