Written by: Greg Ellifritz
I got this drill from Recoil Magazine's article titled Skills and Drills: Breakdown Drill. You can download and print out the targets you will need HERE. And notice that I said "targets" in the plural. You'll screw this one up the first time and will want to try it again. Print out a bunch of these targets before your next range session.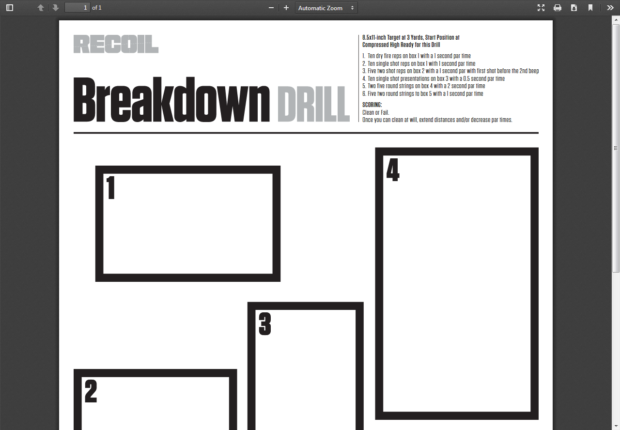 From the article, the drill instructions are below:
Stage One: Box 1 — 10 single presentations from count three of the draw stroke (see left) with a one second par time. We want you to prep the trigger right until the point it is about to break. This is the goal for stage one; acquire the front sight on Box 1 and prep the trigger BEFORE the second beep.
Stage Two: Box 1 — ten single one-shot reps with a one second par. This time, break the shot as soon as you hear the second beep. Establish your grip at count three, break the shot on demand, and push your reaction time.
Stage Three: Box 2 — five reps with the same one second par time, but this time fire two rounds instead of just one with the goal of firing the first shot before the second beep.
Stage Four: Box 3 — 10 single-shot reps with a 0.5 second par if you're not having any issues keeping up. If you're slow or not keeping your rounds on target, then stay at a one second or somewhere in between. The goal is to break the shot prior to or right at the second beep while getting your hits on target.
Stage Five: Box 4 — two five-round strings with par time of 2 seconds to work on recoil management. The goal here is to hear the par time beep; that's 0.5 to get on target and 1.5 seconds to make five shots. The goal is 0.3 splits at the most while keeping rounds on target.
Stage Six: Box 5 — five two-round strings with a 2-second par. That's a 0.5 or less first shot and a 0.25 split time on a credit card size target. The goal is to hear that par beep after the second shot.
The author suggests starting at three yards and working that range until you can get 90% hits under the tight time restrictions. When you can do that, it's time to either increase the distance or reduce the par time.
This is a rough drill. I would hazard a guess that 99% of shooters will not be able to make all their hits within the given time standards.
Here was my first try with my Glock 19 at three yards.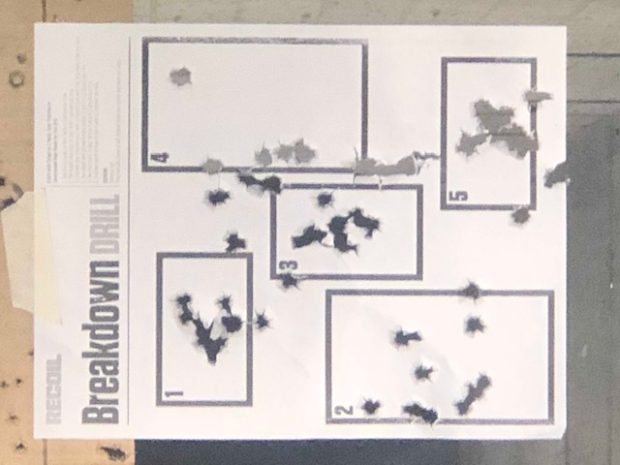 As you can see. I had the biggest problem with box number four. Five rounds in two seconds at that target was simply beyond my performance ability. Although I got all my hits on box number three, I was also a little slow on a couple of the shots (0.6-0.7).
Even though my target looks horrible, I like the drill and plan on doing it again. I can definitely see how regular use of this exercise will speed up my shooting.
If you are something less than a master class shooter, here's how I suggest you try this one.
First time- No time limits. Just work trigger control and get your hits
Second time- Triple the time limits
Third time- Double the time limits
Fourth time- Try the time limits as prescribed.
This will make for a nice 200 round shooting session and will definitely help you improve your speed.
After running this one a couple times with my Glock, I channeled my inner masochist and shot it with a 2.5″ barrel S&W model 19 with full power .357 magnum loads. Although my hands hurt for a day afterward, my target didn't look too bad (at double the suggested times)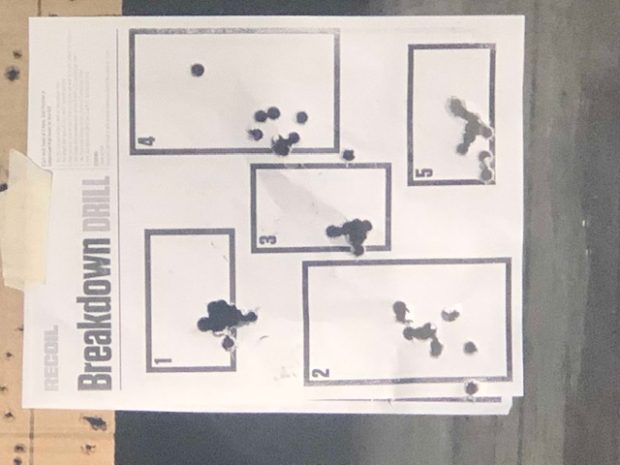 Give this one a try. I think you'll like it.