Written by Greg Ellifritz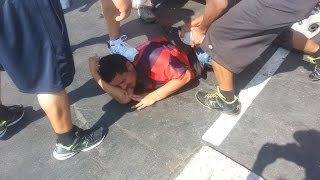 A California man carjacked a woman who was driving with her infant child.  Shortly after he drove off in her car, he crashed into an electrical pole.  Several citizens rushed to the scene to detain the carjacker.  Someone recorded the entire event and posted it on YouTube.  Check out the video.  It's eight minutes long, but all of the good action happens in the first three minutes:
Let's take a look at some of the issues this situation presents….
1) Getting the suspect out of the car.  In the first 15 seconds four or five men struggle with the suspect to get him out of the victim's car.  Once he was out, he almost broke free.  Is there a better way?   How about getting the woman and kid out of the car and taking the keys.  Unless you have concerns that the suspect is armed with a gun, why not keep him in the car?  Those same five guys could stand at the doors and keep him in pretty easily.  No hands get dirty (or bloodied) that way.
The one guy who attempted to use a neck crank to immobilize the suspect at the :12 mark was on to something.  If he had used both hands (palm up) to cup underneath the suspect's chin and then driven his chin up by leveraging the forearms against the seat back, that guy wouldn't have moved around so much.  It would have facilitated the other dudes' getting a good hold on his arms.
2) Holding someone down by stepping on them doesn't work- Around the :30 second mark, you see several of the men attempting to hold the suspect down by stepping on various body parts.  While this shows street "dominance", it is ineffective at keeping the suspect immobile.   The suspect was in the "turtle" position.  He needs to be broken down flat and then he needs a bunch of weight pushed on him to keep him still.  If I was involved in this scuffle, I would break the guy down and have two of the other dudes take control of his arms so that he doesn't attempt to grab any weapons.
If you've never wrestled or done BJJ, what I mean when I say "break the suspect down" is that I want him flat on his belly so that I can better control him.  Here is an example of a very simple high school wresting ankle pick breakdown that I've used numerous times on the street:
3) I'm not a big fan of "mobility kills."  Many instructors teach the idea of stomping on your attacker's hands, feet, or ankles to limit their mobility and partially disable them.  Watch at the :38 second mark.  One of the guys stomps the suspect's hand.  It didn't slow down the fight or hinder the suspect in any way.  I'm not overly convinced of the efficacy of this move.
4) Verbal bluffs should be considered.  Listen at the 1:37 mark.  One of the "good guys" says "shoot him in the back of the head!"  The suspect has his head down and can't see what's going on.  You can bet that that threat may have been enough to keep him where he was rather than trying to continue to get away.
5) Know how to choke someone out without killing him.  There were numerous times in this altercation that a choke could have been applied.  In my experience, unconscious people are much easier to control.
6) Don't let the guy go when the cops show up.  When I'm rolling up to this scene, I'd be happy to have these guys holding the suspect down while I handcuff him.   It's easy to beat someone's ass, but it it's tough to hold someone down and apply handcuffs by yourself.  It's even tougher when the guy is resisting and you don't want to injure him.  Help a brother out!  Hold onto that dude until I get him cuffed!
7) Language- When the cop arrives and takes the suspect down again at the 2:20 mark, you hear him say "Put your hands behind your back."  The suspect doesn't comply.  Then one of the thugs who had been holding him down yells "Put your hands behind your fucking back!"  The suspect complied instantly.  Sometimes you (both cops and citizens alike) need to speak a language that the criminals understand.  That language is usually violent and peppered with profanity.  It is also usually quite effective.  We aren't in Mayberry anymore.
8) No remorse.  Look at the suspect when the cop stands him up at the 2:50 mark.  He has just carjacked a woman and child, crashed their car, and fought both the citizens who detained him and the police officer.  Look at his face.  A disgusting smirk is all we see.  He doesn't care one bit for the victims he terrorized.  That's something that every good person needs to understand…a predatory criminal couldn't care less about you or your children.  He doesn't care about anything except getting what he wants without getting caught or feeling pain.  If you think that moral or rational appeals will be successful against these folks, you are wrong.  It's almost as if they are from another universe.  Don't assume that they will operate by any moral code with which you are familiar.  These psychopaths don't care about ANYTHING!  If they have to hurt you to get what they want, they won't hesitate for a moment.
Your homework this week is to think about this scenario.  If you were a bystander, would you have intervened like these guys?  Why or why not?  If you did intervene, what would you have done differently?
If you would like to read more articles like this, please sign up for my email updates.