Written by Greg Ellifritz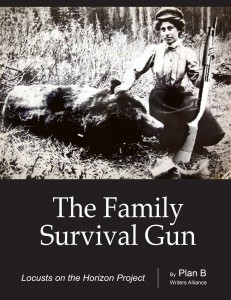 Last year I was contacted by a group of writers who wanted to use my firearm stopping power data in a new book they were creating.  I allowed them to use my data and they produced Locusts on the Horizon, one of the best overall survival books ever written.
The Plan B Writers Alliance has struck again!  They just published a new book called The Family Survival Gun.
Here is a description of the book from the authors:
"The "Family Survival Gun" is a response to feedback we've gotten and a need we've seen. Right now about 2/3 of the US population (a conservative estimate) is essentially living paycheck to paycheck, and there are millions of people that are getting armed, a great many for the first time. We addressed this need to a good degree in "Locusts on the Horizon", but we wanted to focus on this one subject and take it to the next level.
Firearms are expensive, and when you get one for serious purposes to rely upon long term, you aren't just buying a gun, but rather an entire weapon system (ammo, spare parts, sling, light, etc). For many, even the cost of a relatively inexpensive firearm is a serious investment. Whatever gun they get, it needs to be the right one, because, due to the economy, it may be the only one they have for a while. For a great many people, it may possibly be the only one they have when things get really bad.
Whatever firearm people get, it will have to be able to meet all of their needs for home defense, and a full spectrum of hunting including small game, big game, and flying game. This weapon has to be tough, reliable, and most of all, affordable.
So, the goal of "The Family Survival Gun" is to address the question, "If I have only one gun for my family, what gun do I need."
Most books that focus specifically on firearms for the purposes of long term survival tend to take the Mel Tappan 'Survival Guns' approach of presenting new firearms users with a large catalog for choices to mull over, and then leaving it at that without a lot of other information.
We took a different approach than what most survival firearms books tend to take. We use the criteria for the matter at hand to distill down the best choice for the specific weapon which fills that criteria early in the book. We then focus upon that one type of firearm to give the reader a basic foundation on all aspects of that weapon, including accessories, ammo, reloading, firearms safety, basic operation, field stripping, marksmanship, basic use in a fight, etc.
What we wanted was a book that could give someone, especially those not well versed in firearms already, a well rounded starter depth of the full spectrum of knowledge they need for a firearm which they and their families could well be relying upon for their very lives. As the old saying goes, "Beware of the man with only one gun, because he probably knows how to use it."
I have a copy and just finished reading it.  I'm impressed.  These guys have done their research and make some excellent recommendations.  They cover everything from picking the best survival gun, to maintaining it, accessorizing it, and even improvised reloading of ammunition.  It will be a good addition to your library.  For the cost of a newsstand commercial gun rag that contains nothing but useless sales pitches for crappy guns, you could buy a 285 page digital reference manual like The Family Survival Gun.  I think buying the book is a far better idea!
If you would like to become better educated about firearms use in a survival situation, The Family Survival Gun is available on Amazon.com.