Written by: Greg Ellifritz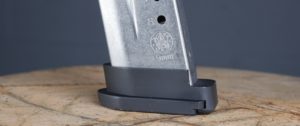 Do you own a Smith and Wesson M&P Shield?
I do and I really like the gun.  It's been my go-to pistol whenever I've wanted to carry something a little smaller and lighter than my Glock 19.  I have no complaints about the pistol.  The only thing I don't like are the stock plastic spacers on the factory larger capacity magazines.  Those plastic spacers tend to move around when carried as a spare mag.  They also can pinch your fingers during reloads and while shooting.  I really don't care for them.
Fortunately, my friend Paul Carlson from Safety Solutions Academy developed an aftermarket magazine baseplate that makes the extended capacity Shield magazines a lot more usable.
Paul sent me a couple pre-production samples.  I've been putting them through their paces over the last few months and am very happy with their performance.  The two Plan B base plates have been 100% reliable through several hundred rounds of live fire training.  They have held up well and I would have absolutely no problems recommending them to anyone who wants better performance with their Shield pistols.
The Plan B makes a couple of very important improvements to the factory base plates.  The first is that the spacer is innovatively attached to the base plate itself.  That eliminates all movement and pinching.
Since the Plan B is metal instead of plastic, it adds a little weight to the bottom of the magazine.  That little bit of added weight ensures that the magazines drop free when you hit the mag release button.  The factory mags are definitely hit or miss with regards to being "drop free."
The final advantage is that the Plan B has a ledge on the end of the base plate.  That extended ledge can be used to physically rip your magazine out of a malfunctioning pistol, even if you only have one hand free.  Catch the ledge on your belt or the edge of your pants pocket, push the mag release, and rip.  One handed malfunction drills just became easy!
The Plan B took about two minutes to install on each of my magazines.  You don't have to be an armorer or gunsmith to put these on.
The only criticism I have is that my Plan B base plates rattled a little bit after I installed them.  Paul told me that there are some slight variations in the dimensions of both the Shield magazine and the Plan B itself.  Occasionally you might find that a Plan B is a little loose on your particular magazine.  He gave me the suggestion of placing a wrap of tape around the magazine before installing the Plan B as a possible fix.  I wrapped a single layer of black electrical tape around the base of my magazines and re-installed the Plan B.  It worked perfectly and now there is no rattle.
In my opinion, the Plan B is a "must have" accessory if you are a Shield owner and use the larger magazines.  It's a brilliant design and greatly improves the functionality of the pistol.  I'm looking forward to the upcoming release of the production version of the Plan B.  If you carry a Shield, you should purchase some as soon as they become available.
You can pre-order the Plan B at the Safety Solutions Academy website.
*FTC Disclosure:  I am not being compensated for this review by Paul Carlson or the Safety Solutions academy.  Paul generously provided me with two pre-production models for test and evaluation purposes.  He did not give them to me in any expectation of a positive review on this site.  I received no commission or payment of any type for writing this review.
If you would like to read more articles like this one, please sign up for my email updates.