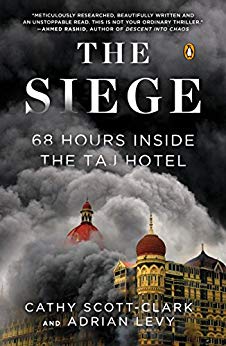 Cathy Scott-Clark and Adrian Levy's new book The Siege: 68 Hours Inside the Taj Hotel is a must read for any students of modern terrorism and active killer events. The book details the chronology of the November 2008 siege of Mumbai by 10 members of the terrorist organization Lashkar-e-Toiba. During their attack, they killed 166 people and wounded more than 300 others.
The book is a compelling narrative that reads almost like fiction. It provides an extensive background information about most of the terrorists and quite a few victims. The frustration and ineptitude of the Indian authorities is detailed as well.
The Indian authorities knew something like this was going to happen, but they did nothing to prevent it:
"Patil could see that all previous incidents consisted of concealed bombs left on bicycles and scooters, abandoned in market places and outside prominent buildings. Some of the materiel was homemade, derived from potassium chlorate purloined from textile mills, where it was used as a colour fixative. Other blasts relied on black soap, as locals called the sticky military explosive RDX, smuggled into the country from Pakistan or the Middle East. But the more recent intelligence suggested Lashkar was plotting something new, a live raid on the city.
Three warnings specifically mentioned the use of fidayeen, meaning guerrillas armed with grenades and AK-47s who fought to the death, inflicting heavy casualties before being overcome. Lashkar had deployed this strategy in Indian-administered Kashmir to deadly effect.
Eleven warnings suggested the plan would involve multiple simultaneous attacks. Six warnings pointed to a seaborne infiltration, which would be a first in India. Zone 1 lay at the narrowest part of the city peninsula and was accessible from Back Bay to the west and the harbour and docks to the east. Patil had contacted the coast guard and asked what was being done to beef up security. 'Nothing,' he was told. He called the DCP responsible for the port, who confided that he was so short of funding that he did not have a single high-speed boat to chase waterborne suspects."
Not only did they avoid doing anything to proactively avoid the attack, they didn't even prepare to counter it if it came:
"Though they were supposedly armed with AK-47s and 9mm pistols, Patil learned that not a single AK round had been purchased for three years and the QRTs had not done any firing practice since September 2007. The next tier of city defences was the optimistically named Striking Mobiles, teams of five or so, armed with rusty carbines and self-loading rifles, often without ammunition. It was well known they had to account for every round fired. After an encounter he would often see them on their hands and knees looking for the casings. The few who were issued with bulletproof jackets found they did not 'cover vital organs', with one classified report noting the plate design 'was defective'. Long before tonight, he had warned his superiors: 'Mumbai's battle readiness is in doubt.'"
The terrorists were well equipped:
"There were a Kalashnikov, eight magazines – 240 rounds – eight hand grenades, one bayonet, one pistol, three pistol magazines, one water bottle, a one-kilo pack of raisins and almonds, headphones, three nine-volt batteries, a battery charger and a tiffin box containing eight kilos of RDX. Supply sacks for the journey were also handed over and contained blankets, rice, flour, oil, pickles, milk powder, matches, detergent, tissue paper, bottles of Mountain Dew, toothpaste, tooth brushes, razors and towels. They were issued with new Western clothes and told to cut out the labels. All of them were handed watches set thirty minutes ahead, to Indian time. Abu Hamza distributed an emergency float of 10,800 Indian rupees (£130) for each buddy pair, a GPS handset, and a black and silver pre-programmed Nokia 1200."
But it wasn't their equipment that gave them the edge over the Indian police and military responders, it was their individual tactics:
"He thought about how the timed charges set in moving taxis, detonating all over the city, had projected a larger footprint for the operation. The sobering reality was that one man less than a cricket team had got an entire nation on the run."
Most interesting to me was the accounts of the individual tactical decisions made inside the hotel by both the victims and the terrorists. Both displayed some sheer brilliance. There was an American Marine officer trapped in a ballroom (who had been visiting family on vacation). He linked up with some former Indian soldiers eating in the same restaurant and set up some hasty defensive positions:
"Bob was sure-footed, the Marine captain thought. There was something about his everyman demeanour that appealed, even though he actually had no front-line experience. 'Don't talk loudly on the phone,' he said. 'Don't tell people on the outside where we are. Keep close to the floor. Don't move around. Don't sit under the chandeliers. Don't talk to the press.' He circulated a piece of paper, asking everyone to write down names and addresses. He did not say it was a 'dead list'. Now they needed to build a fortress. One of Bob's commandos climbed inside a false ceiling, above the lifts, ready to drop on whoever entered. Ravi disabled the lifts by jamming chairs between the doors, and then secured the restaurant entrance shut with wire. Inside, they began constructing barricades to block two outward-opening fire exits, piling up tables and parts of the podium, placing chairs either side, with which they planned to clobber any gunmen who tunnelled through. Ravi also quietly recruited waiters to sit by these exits, to act 'as canaries'. As far as he was concerned, this thing wasn't likely to end any time soon. They were bedded in for a long wait."
When the terrorists realized that the police were watching them using the hotel's CCTV system, they implemented a simple solution to avoid being monitored:
"Through the broken lens Patil could just make out two other gunmen piling up carpets and linen in the corridor, which they set on fire, filling the sixth floor with coils of smoke. The hotel was burning, the flames making the cameras flare, the smoke clouding them. The CCTV room was almost blind."
And, as is typical even here, the "authorities" who failed their nation were promoted and no preparations were made to prevent another such incident from happening in the future:
"Rakesh Maria, the city's most famous cop, who was promoted in 2010 to chief of the Anti-Terrorist Squad, replacing his murdered colleague, Hemant Karkare, insisted that those three days in November 2008 simply represented a failure of imagination on the part of the police and intelligence agencies. 'Everything's been said that needs to be,' Maria initially claimed, after we had waited hours to see him in his first-floor office at the ATS headquarters, in Nagpada.
But once we had begun trawling through the evidence the opposite seemed true. While the 9/11 commission of inquiry in the United States enlisted a ten-man bi-partisan board of politicians to probe every facet of the attacks, and the 7/7 inquests in London spent six months recording every detail and witness statement, 26/11 received only a cursory grilling from the Pradhan Commission, a two-man panel formed in Mumbai on 30 December 2008 to explore the ' war-like' attacks on the city. Having been precluded from cross-examining the intelligence services, politicians or the National Security Guard, it produced a sixty-four-page inquiry report, which was widely lambasted for lacking depth. Pradhan exonerated Mumbai's police force, although it did accuse Police Commissioner Hasan Gafoor of failing to be more visible. Even these weak words were rejected by the state legislature."
Whether you are looking for more information on terrorist attacks or even for a fast paced thriller in the style of Blackhawk Down, you'll truly enjoy The Seige. The book is available on Amazon.com
Some of the above links (from Amazon.com) are affiliate links. If you purchase these items, I get a small percentage of the sale at no extra cost to you.