Written by Greg Ellifritz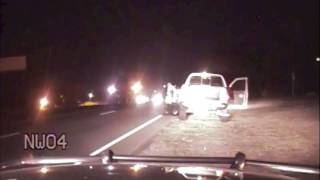 A reader recently sent me a link to the video of a tragic police shooting and asked for my take on the matter. In the video, the officer pulled a man over for a traffic violation. The man got out of the car and reached inside for a walking cane. The officer mistook the cane for a rifle and shot the man. Watch the short video below.
I don't think the officer fired maliciously. He was clearly upset by his misidentification and seemed quite shook up by the entire incident. I don't know this officer. Nor do I know anything more about the shooting than what I see on the video. I think it was a tragic mistake on the part of the officer and blame the lack of police training more than anything else.
I've trained police officers for most of my career. I can honestly say that I'm not aware of a single agency in this country that actually provides the type of training officers truly need. Police training is generally inadequate both in total hours provided and in content. Most training is not realistic and is not conducted under any type of stress.
Shooting judgement is rarely covered, especially in the force on force scenario environment where it truly needs to be practiced. Most agencies in my state do NO force on force training and only shoot approximately 100 rounds in live fire every year. It's not enough. I don't know about the particular agency involved here, but I would bet money that it isn't much different than most of the other agencies with which I am familiar.
There isn't much I can do about inadequate police training. But I can offer a few suggestions that may help conscientious officers and armed citizens alike avoid a similar tragedy.
First, the police perspective…
Many of my readers are likely questioning why the officer shot. I don't know the answer to that question. I would hazard a guess that most of my readers haven't seen the video of the shooting of Deputy Kyle Dinkheller 30 years ago. Deputy Dinkheller was killed in a similar situation where the man he stopped for a traffic violation pulled a rifle out of the car instead of a cane. Watch the dash cam of the incident below. Be warned, you will see and hear a police officer killed on the video. It's not for folks with weak stomachs.
Let's compare these two videos. Go to the 1:16 mark in the current video. Then go to the 1:49 mark in the Dinkheller video above. From the officer's perspective, is there any difference in the traffic violator's physical actions?
It's tough to tell what either person has in his hands. I am almost certain that the officer in this case had seen the Dinkheller video (it's prevalent in police training classes) and didn't want to be killed like Deputy Dinkheller was.
Does that mean that every officer should be justified in shooting anyone who reaches into a car? No, I'm not saying that at all. But it's relatively easy for me to understand why the man was shot. If the deputy would have waited for a positive identification, he would have been shot had the man actually been removing a rifle.
The laws of Action versus Reaction are tough to overcome.
What could the officer have done to make a better decision here? I would suggest a few tips for any of the officers reading this blog:
1) Complete all radio traffic before making the stop or as you light up the car. When you are sitting behind the wheel of the cruiser, you don't have much mobility. You are a stationary target. Talking on the radio ties you to the cruiser when you should be out of the car and mobile so that you can escape an attack or seek cover.
2) Give clear and concise verbal commands. The deputy here yelled "Sir! Sir! Whoa, Whoa, Whoa!" That isn't good enough. It doesn't tell the suspect what you want him to do. Yelling something like "Stop! Don't move!" or even "Put your hands up!" would have likely garnered a better response.
3) Have a plan to seek cover quickly if things go bad. If the officer would have moved to the rear of his car for cover instead of standing still and shooting, he might have had more time to better evaluate the situation.
What about from the perspective of the person being pulled over? Is there anything he can do to avoid being shot?
1) Pull over as soon as you see the lights. I often have people who slow down and "try to find a better place to stop" when I hit the lights. Realize that the officer has already chosen what he thinks is the safest location for the stop. Your driving someplace else isn't likely to make it safer. Pull over immediately.
Criminals don't stop immediately because they are hiding evidence, drawing weapons, or coming up with an escape plan. When you don't immediately stop, cops start assuming that you are doing one of those things and begin preparing for the worst.
2) Realize that the cop doesn't know you are a "good guy." Many people think that since they are regularly law abiding citizens, that the cops should just know that and understand that they mean no harm when they perform an action that looks like they are drawing a weapon or stashing evidence of a crime. The cop has no idea who you are and is likely to err on the side of his safety and assume the worst when you make movements consistent with drawing a weapon.
3) Don't get out of your car. Generally, the only people who get out of the car on a traffic stop are criminals. They get out to assault the officer, run away, or distract the officer from evidence visible inside the car. When you get out of the car on a traffic stop, the cop assumes you are doing one of those things and prepares accordingly. Stay in your car and keep your hands visible on the steering wheel.
We all can hope for better police training to avoid tragedies like this one. It isn't likely to happen. The best thing we can do absent giving our officers quality training, is to pay attention to this advice. You don't want to get shot. The cop doesn't want to shoot you. With a little understanding of the perspectives from both sides, we can avert mistaken identity shootings like this one.