Written by: Greg Ellifritz

I heard the thud as the postman dropped the heavy box on my porch. I opened the package to find that my friend Hock Hochheim had sent me copies of his three most recently published non-fiction books. Hock knows I'm a reader and promised that I would enjoy his latest publications.
If you are unfamiliar with Hock's background, you can check out his extensive bio HERE. Hock has been a soldier, police officer, detective, bodyguard, and martial arts instructor since the early 1970s. He holds black belts in half a dozen different martial arts and teaches all around the world.
I've known Hock for a long time. I subscribed to his "Close Quarter Combat" magazine back in the year 2000. Before the internet became popular, Hock's magazine contained the best fighting information available. I took my first course from Hock back in 2001. He came to Dayton, Ohio so a couple of friends and I attended his class. It was a knife seminar that covered a lot of knife fighting techniques on the ground. Since then, I've also taken Hock's "Gun Arm Grappling" and "Police Judo" courses at various police training conferences.
I like Hock's material because it isn't too fancy. It is effective, but not complicated. The structure of his lesson plans and teaching style really resonates with how my brain works. Unlike many combatives instructors, he's thought a lot about his curriculum development. He's created a very logical progression for learning; one where the student learns a technique and then gradually builds on it. The technique is then practiced against resisting opponents in all the different contexts in which it can be applied….standing, kneeling, on the ground, etc. I've modeled aspects of several of the classes I teach after Hock's innovative teaching methods.
It took me a few weeks, but I read all three of Hock's latest books. He was correct. I truly enjoyed them all. I think you will too. Here's a brief overview of each of his new books. I encourage you to check them out is the descriptions pique your interest.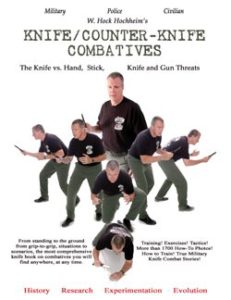 This is an epic work. The "thud" I heard when the mail man dropped off the books was primarily caused by this one. It is a hardcover masterpiece with almost 300 pages of knife techniques. From the book description:
"Over 1,400+ how-to photos * FULL COLOR COVER AND INTERIOR From standing to the ground, from grip-to-grip, situations to scenarios, the most comprehensive knife book on combatives you will find anywhere, at any time! Training! Exercises! Tactics! How to Train! Plus True Military Knife Combat Stories! "
That description contained a bunch of exclamation points. I'm not much of a fan of the exclamation point in my writing, but this book is deserving of every one. I think it's probably the single most comprehensive knife fighting technique book that I have in my library. Beginners will learn all the basics and even seasoned instructors can benefit from Hock's training drills.
This one gets the rare Five-Star Rating from me.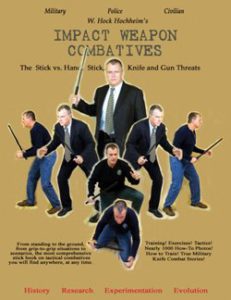 Impact Weapons Combatives looks similar in both form and layout to the Knife Counter-Knife book. It is a hardcover as well, but isn't quite as dense, coming in at just over 200 pages. It covers grips, strances, open and closed mode striking, quick draws, footwork, blocking, stick retention and strikes with the support hand. It even covers stick takedowns and using the stick from the ground.
Like Hock's knife book, I think this is truly the definitive reference for the subject. Most other impact weapons books lack quality content. They are thin books that merely describe a few overly complex Filipino stick drills. That's not how this book operates. It starts students at the ground level and teaches all the basic and advanced techniques a practitioner might need to wield a stick effectively in combat. If you are interested in the somewhat arcane topic of fighting with impact weapons, this book would be a great investment.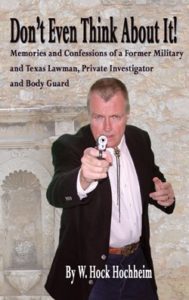 Friends are constantly pressuring me to write a book full of the funny, touching, or exciting experiences that I have in my job as a cop. I've often thought of doing just that, but then I read this book. It caused me to realize that my stories aren't nearly as cool as those of my counterparts in larger police agencies. It also caused me to realize that police work in the 1970s and 1980s was very different (and likely a whole lot more fun) than police work in the present day.
This book details many of the craziest and most dangerous events Hock responded to in a long law enforcement career. I found it extremely entertaining. If you like true life cop stories, this book is one of the better works in the genre. Pick it up. I think you'll be very entertained while reading it and you'll come out with a whole new respect for some of the things that police officers have to deal with on a daily basis.
Hock's books can be purchased on the Force Necessary Website or at Amazon.com. I encourage you to check them out. They won't disappoint.
*FCC Disclosure. I received no compensation for this book review and receive no payment from the author or publisher for any sales generated by the review. The links to Hock's website are not affiliate links and I don't get paid if you use them. Other than getting to read the books for free, I got no payment for this review. I simply enjoyed the books and wanted to share them with my readers.