Written by: Greg Ellifritz
One of the goals of any type of combative training is to "remove novelty." Novel situations combined with stress often force our brains to operate in a more instinctive manner. When operating this way, higher order thinking isn't possible. Our goal as trainers is to introduce our students to as many possible situations as we can so that the student has a mental reference in the event he experiences a similar situation in the future. If the student has already thought through an incident and come up with a viable solution, the brain is less likely to shift into "instinctive" mode and more likely to remain capable of intellectual thought. That's what we are looking for.
Fortunately, I don't need to have you all in a scenario oriented training class to start making some mental maps. You can do that by just thinking about crime scenarios and coming up with a logical plan to respond to them. That's what we are going to do in today's article.
Here are two recent kidnapping attempts that were caught on video. They are both somewhat different and a nuanced response may be required. Take a look at both and think about what you might do.
The first kidnapping attempt is described in the article below. Read the story.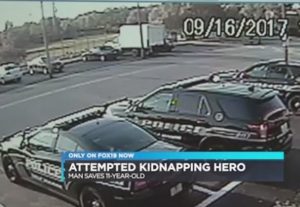 Place yourself in the role of the "Samaritan" in this case. You are walking down the street when you see a man dragging an 11 year old girl along the sidewalk by her wrist. As you pass the two, the girl looks at you and silently mouths the words "help me" several times.
What would you do?
When making a decision, I think it's helpful to explore all rational options before choosing the best one. What could our witness have done here? His options are (from least dangerous to most dangerous):
Nothing
Get away, call police
Follow at safe distance while calling police
Verbally intervene by asking questions
Verbally intervene by demanding the man let the girl go
Use an intermediate weapon like pepper spray
Physically intervene by pulling the girl away
Physically intervene by striking the potential suspect
Draw weapon and threaten suspect
Draw weapon and shoot suspect
Which option would you have chosen?
The witness in this case chose to ask some questions. When the man admitted he didn't know the girl, the witness called police. The suspect ran and the witness gave chase and held the suspect until police arrived.
Everything turned out well here because the suspect was unarmed, didn't have any friends, and chose not to attack the witness. It further helped the situation that the witness was intervening in an actual kidnapping attempt rather than an event which could have been something as innocuous as a domestic dispute or a parent attempting to drag home his runaway daughter.
Things aren't always what they seem. This situation could have easily been something else or could have turned violent. Think again about your chosen course of action given the description of the scenario I provided. When making your assessment did you consider:
The man might be armed and he may try to shoot/stab you if you intervene
The man might physically attack you when you try to intervene
The man might have unseen accomplices who attack when you intervene
The child might attack you when you intervene
This whole scene is a ruse to lure a victim in close for a robbery attempt
This is a parent with a misbehaving child
This is a child on the autistic spectrum or who has some type of developmental disability and this is the child's caretaker
The "child" is actually a runaway prostitute and is lying to you about the kidnapping attempt because she doesn't want to get in trouble
All of those are possible outcomes. Considering those possibilities, would you change your decision?
I can't presume to tell you what to do. You have to make that decision yourself. If I were witnessing this crime, I would not close the distance or confront the suspect. I would immediately call police and follow the suspect at a safe distance providing updated location information to the responding officers.
The next scenario is a slightly different kidnapping attempt. Read the article below and watch the short video of the incident.
Is this the moment a woman was snatched off the street in LA?
You watch as a woman is walking down a sidewalk at night. A car pulls up next to the woman. A man gets out of the car, picks the adult female up and drags her towards the vehicle. The woman is yelling, screaming, and fighting.
What would you do? Is this situation any different than the last one? Why or why not?
You have the same possible intervention options. You have the same possible complicating factors. The primary difference is that in this scenario, the victim was an adult and the attacker was able to flee in a car. That makes a decision a little more complex.
The fact that the victim was an adult greatly increases the chance that she's not truly an "innocent" victim. This is far more likely to be a domestic fight or a ruse to rob or attack you, the witness. It could also be a situation where the woman stole something from the man or tried to scam him on a drug deal. There is a much higher chance that the woman is not as innocent as she appears. Does that change your mind about your choice?
The presence of the car is also a complicating factor. The car could be hiding additional suspects or weapons. Did you consider that? Did you account for the suspect's three buddies jumping out when you try to intervene? What about the suspect reaching into the car to pick up his AK-47 laying on the front seat so that he could shoot you? These possibilities should be going through your mind.
There is more of a sense of urgency with the car. When the suspect is on foot, I can relatively easily follow him. Once the suspect and victim get into a car, that may not be possible. If you are going to act, you will have to act quickly.
What would you do?
In this one, I would keep my distance and call the police. I'm a little less worried about the victim in this scenario than I would be about a little girl. It's pretty rare that a man would randomly snatch an innocent female off the street and shove her into a car. It's far more likely that this "victim" knew the attacker and did something to precipitate the attack. I'd be far less likely to intervene in this one. I'd call the police, get a good description of the suspect, and attempt to get the car's license plate number. I would not give chase in this situation.
It's OK if your solutions are different from mine. I just want you to think about situations like these in advance. I also want you to avoid the potential pitfalls inherent with intervention if you choose to do so. Think these things through. Determine what you might do. After doing so, you'll be far more decisive in the event you see a kidnapping similar to one of these cases.