Here are a few links to interesting articles I read this week and want to share.  Some are intellectual.  Some are informative.  Some are just fun.  If you have some free time, check them out this weekend.
While I don't agree with everything Rob Pincus teaches, on this subject he is right on.  You shouldn't be carrying a 3″ 1911.  They just don't work.  I echo Rob's comments in noting that it is exceptionally rare to have one of these guns make it through a full day's training at the shooting school.
Most Americans have no idea about the importance of the Coca leaf to the people in South America. Chewing Coca leaves will not get you high. It is not cocaine. It does help with nausea, altitude sickness, and headaches. It provides a slight energy burst and make hunger and thirst more tolerable.
I've chewed Coca leaves in Peru, Ecuador, and Bolivia. The tourism board in Cusco, Peru hands them out for free to all of the people arriving by plane! It's a very useful and misunderstood plant.
Interesting research about how speech patterns can reveal psychopathic tendencies
I get the statement quite regularly in my classes:
"Who needs to shoot 500 rounds through your carry pistol to ensure it is reliable? You'll never shoot 500 rounds in a gunfight, so it's a meaningless measure. My gun shoots 2-3 magazines before I get a malfunction and that's all I need."
Students who think or say this are wrong. Mr. Cunningham explains why.
He's right. How many gun owners do you know that have put more than 500 rounds through their pistol in one day? It's sad, but I bet it's less than 1%.

Paul Gomez hits it out of the park with this short video.  In less than 3 minutes he both dispels one of the huge myths in weapon retention and demonstrates the correct retention position.  Flag that thumb!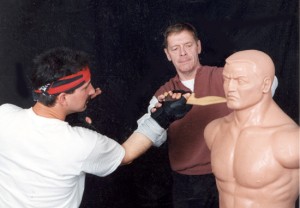 Hock Hockheim explains why you may not need to do 5000 repetitions to learn a skill.