Written by: Greg Ellifritz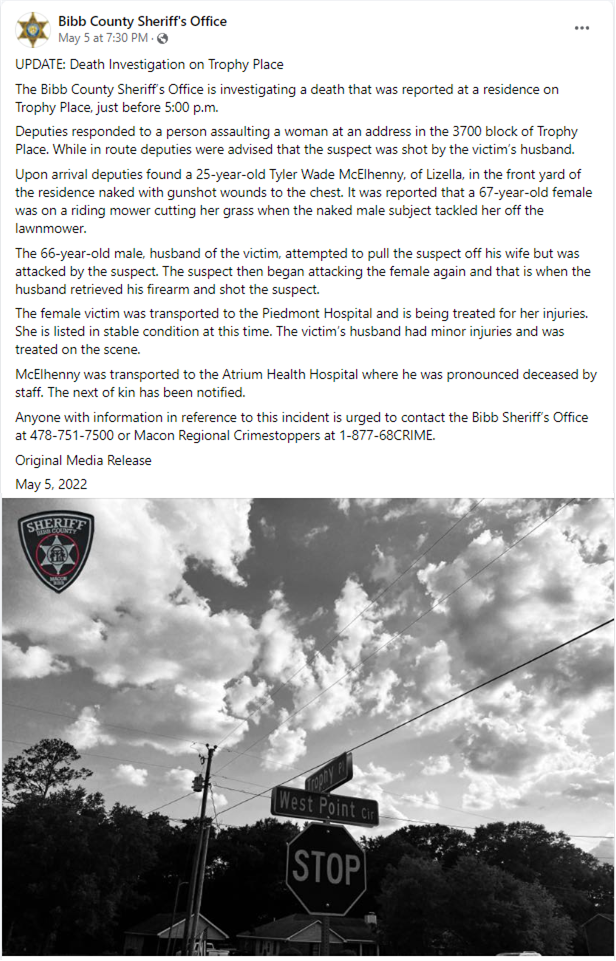 Have you ever thought about what you would do if you were attacked while outside doing yardwork? Most people working in their yards aren't expecting criminal violence. That makes them a good target for predatory criminals.
Read the article/press release linked above. A 67-year old woman was attacked by a naked man while she was mowing her lawn. The woman's husband pulled the naked man off of his wife. The man then attacked the husband and resumed his assault on the woman.
What would you do if you were approached by a criminal while doing yardwork? Here are a couple questions to ask yourself:
1) Do you carry any weapons while working outside? For those of you who carry guns, a .38 snub revolver makes a lightweight and handy "yard gun". If you don't want to carry a firearm, at least consider a knife or pepper spray whenever you leave your house. You may also consider mounting a weapon to your lawn mower for convenience. A large machete or axe wouldn't look out of place.
2) Are there improvised weapons you can use? If you are using power tools like chain saws, weed whackers, or hedge trimmers, resist the urge to turn them off if you are approached by a stranger. The criminal will likely pretend he can't hear you and motion for you to power down your equipment. Don't do it. Most power tools make excellent improvised weapons.
3) Do you carry a communications device with you while outside? I don't personally care for constantly carrying my cell phone, but I can appreciate their role if you are attacked or injured and can't make it back inside your house. It's probably smart to have your phone with you when working out in the yard.
4) Do you normally wear headphones when doing yard work? Recognize that the sounds of power equipment or music can reduce your ability to detect an attacker's approach. Be certain to remain extra vigilant visually if your sense of hearing is diminished.
5) What do you do to secure your house while you are outside? I once had someone steal a mountain bike from my garage while I was mowing the grass in the back of my house. I had left the garage door up and the bike was easy pickings for the thief. He could have just as easily gone inside my house, as the door from the garage was unlocked as well.
It makes a lot of sense to shut and lock exterior doors to your house whenever you are not in their direct line of sight or are mentally preoccupied. If you leave your house unlocked, do you have a plan to deal with an attacker who surprises you when you finally finish your work and go back inside? What would you do if you saw someone running from your house or garage while carrying some of your possessions?
I hate yard work as much as anyone else. The only thing worse than mowing grass is getting attacked while your are mowing grass. Work through these issues so that you are alive to enjoy the cold beer you've earned after all your hard work.