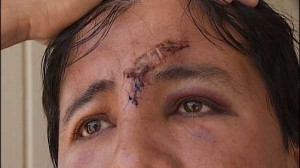 You are walking down the street when you are approached by two men.  One asks you if you have a lighter.  What would you do?
The man in the photo above was confronted by that same scenario.  After telling the men that he didn't have a lighter, one man struck him in the face with a gun butt and then knocked him to the ground.  The pair continued to beat him for awhile and then took his watch, bracelet and wallet.  He suffered a concussion and needed stitches to close up the gash in his face.  Read the entire story at the link below…
Criminals will often ask seemingly innocuous questions in order to provide a rational justification to close the distance and commit their crime. The question this victim was asked "Do you have a light?" is one of the more common. Others that I see regularly are "Do you have the time" or asking for directions.
It is smart to recognize these questions for what they are…distractions. Have a set answer in place for each of them and be ready for anything.  Any time you hear one of these common distracting questions while simultaneously getting a "bad feeling" about what is going on, it's time to act!
Also note that once the attackers in this case used the question to close the distance, they immediately attacked. They didn't even threaten the victim or give him a chance to comply. The fight was on.  The victim wasn't given a chance to comply or to flee.  The only option he had was to fight or take the beating.  That's a bad spot to be in.
Compliance is a viable option in some situations, but (like in this case)  it doesn't always work. Have a backup plan in case your compliance doesn't solve the problem.