Written by Greg Ellifritz
Retail pharmacies are dangerous places.
While commercial robberies have decreased (likely due to Covid) in the most recent studies, we saw almost 900 pharmacy robberies each year in the United States. As the effects of Covid decline, experts predict that these robberies will increase again.

Pharmacies are also common targets for burglaries.
Demand for narcotics, cough syrup behind 49% increase in pharmacy break-ins
Have you ever considered that going to your local pharmacy might be more dangerous than any of your other retail shopping trips? Maybe you should. Check out some of the recent cases I found where shoppers were robbed after visiting pharmacies.
Besides an increased chance of being robbed of your drugs, there are lots of robberies targeting the pharmacy itself. While you are waiting for your prescription, are you staying alert to what's going on around you?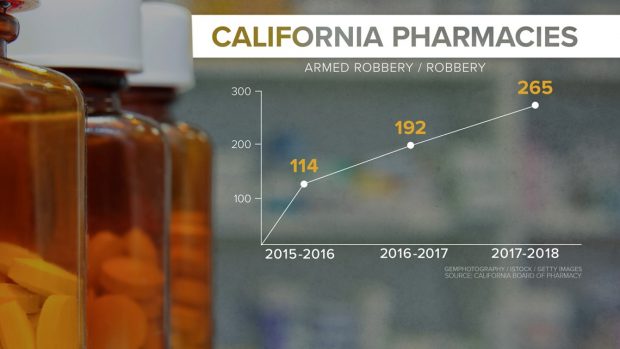 Pain meds are valuable on the street. Rough street prices are $1 per milligram on Oxycodone and slightly less for Hydrocodone. That means your Vicodin/Lortab/Norco pills are worth about $5 each. Some crackhead won't hesitate to fuck you up for that $500 bottle of pills. It's important to be aware of who may be watching you at the pharmacy counter when you pick up your pills.
It's also important to keep your prescriptions hidden. Take a look at some of the attacks in the links above. The robbers often knock their targets down to the ground and go straight for his/her bag of pills. Keep your pills hidden as you leave the pharmacy.
I learned this lesson a few years ago in Bolivia. I was in a pharmacy buying some altitude sickness meds and started to walk out with the bag in my hand. The pharmacist had a look of horror on her face as she stopped me. She told me in Spanish to hide the bag under my shirt. A gringo walking out of the pharmacy in a sketchy neighborhood in La Paz carrying pills is likely to get jacked. I avoided a potentially dangerous mistake due to a kind and street smart pharmacist.
Many of you can benefit from the same advice.
Some other tips:
Use the drive through pick up option at your pharmacy. Keep alert during the transaction and keep your vehicle in gear. Make sure your car doors are locked. Drive away if anyone approaches your car.
Minimize the mentioning of controlled drugs when speaking with the pharmacist. A casual thief may not be intentionally targeting you, but may change his mind if he hears of a target of opportunity. Consider using the pharmacy's "private discussion booths" if you have any questions about your controlled drugs.
Look around before leaving the pharmacy counter. Pay attention to anyone who is paying attention to you or where you place your pills.
As you exit the pharmacy, stop and look around before walking outside. You want to notice anyone loitering around the entrance or nearby in the parking lot. If you see such a person, delay your exit, ask for an escort to your car, or call the police.
Be careful with those prescription pills. Your $4.00 co-pay lulls you into a sense of complacency. For some addicts, those pills are worth far more.